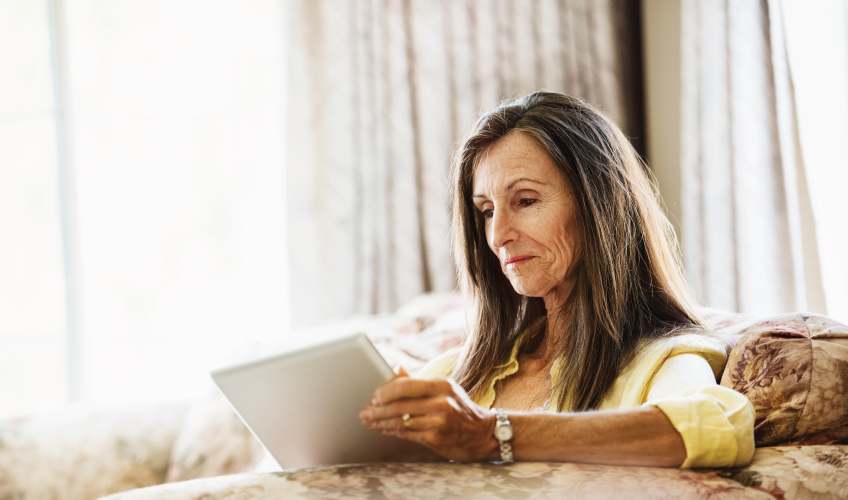 One snowy Friday night, Tameka Hamlin discovered her 2-year-old daughter had pinkeye ― again. Because it can be highly contagious, she wanted to start treating it right away. Her husband suggested they give telemedicine a try.
Soon, a pediatrician was examining Tameka's daughter by video chat. The toddler had been treated the month before for bacterial conjunctivitis, so the doctor concluded that this was a recurrence and called in a prescription for antibiotics. The girl would be back in daycare Monday morning. "The service is perfect for moms," Hamlin says. "Why isn't everybody doing this?"
Telemedicine, also called virtual care, refers to medical advice or treatment provided by phone, mobile app or online video. Getting sick tends to happen when you least expect it, and arranging treatment is sometimes tough. Busy work schedules, late-night health surprises, and long trips to the nearest medical office can delay care. Here are a few situations when you should keep telemedicine in mind:
You need care now.
The response time for virtual doctors is remarkably quick: Think minutes, rather than hours. Teladoc, an Aetna partner and the nation's largest telemedicine provider, generally has an average response time of just 10 minutes. Compare that to the few days or weeks you may wait for an office visit.
Aetna members can learn more about their Teladoc benefits and set up their account here.
You can't get to a doctor's office.
You can request a virtual consult from home, at work or while traveling. There are all sorts of reasons people can't make it to the doctor in person. Maybe driving isn't a good idea because you're sick or the weather is bad. Perhaps missing a half day of work means you don't get paid. Or you might be away from home for an extended period because of college or business travel. With telemedicine, that's no problem at all.
You need late-night or weekend care.
Many doctors work regular office hours, Monday through Friday. But 75% of life happens outside that window of time. Even if a nearby walk-in clinic is open with extended hours, you may not be eager to leave home late at night. For Tameka, even a quick trip would have meant getting her daughter out of bed and bundled up on a cold winter night.
What you need to know
If you haven't used telemedicine before, you may be wondering how it works. Below are some details about how and when to use the service as well as what kind of care to expect:
Talk to high-quality family doctors and specialists. Teladoc physicians, for example, are all board-certified and state-licensed, and have an average of 20 years of experience. 
You don't need any special technology or skills. If you can use a regular phone, you can use telemedicine. Some services also offer video consults through a mobile app or desktop computer.
Virtual doctors can prescribe medication. Prescriptions can be picked up at your choice of pharmacy across the country. 
Telehealth doctors can diagnose and treat a wide range of conditions: colds and flu, allergies, bronchitis, sinus infections, rashes, pinkeye (in kids and adults) and arthritis flare-ups, among others.  You can find a more detailed list of conditions here. 
Some illnesses and injuries require an in-office visit. For serious problems, you should go directly to your local urgent care center or emergency room. That's true of broken bones, head injuries, severe burns, chest pain and vomiting blood.
How to get started
Ask your insurance provider or employer if your benefits include telehealth. The cost per consult varies. Aetna members using Teladoc won't pay more than $40 for general medical care (behavioral health and dermatology consults may cost more).
Setting up an account before you have a medical problem will minimize delays later if you need quick care. However, you can also register when you request your first consult. You'll choose your preferred platform: phone consult or app. Then you'll provide your medical history, the same way you would in a doctor's office. After requesting a consult, a doctor will contact you within minutes.
"Health care can be time consuming, confusing and expensive," says Nassar Mufdi, an Aetna product manager who works with Teladoc. "Telemedicine provides 24/7, 365 convenience and high-quality care at low cost." Tameka Hamlin said it best: Why isn't everybody using it?
About the author
Christina Joseph Robinson is a veteran editor and writer from New Jersey who still loves to read the old-fashioned newspaper. She's raising two fruit-and-veggie loving daughters to balance all the treats Grandma sends their way. Christina's health goal is to resume her workout routine after being sidelined by injuries.