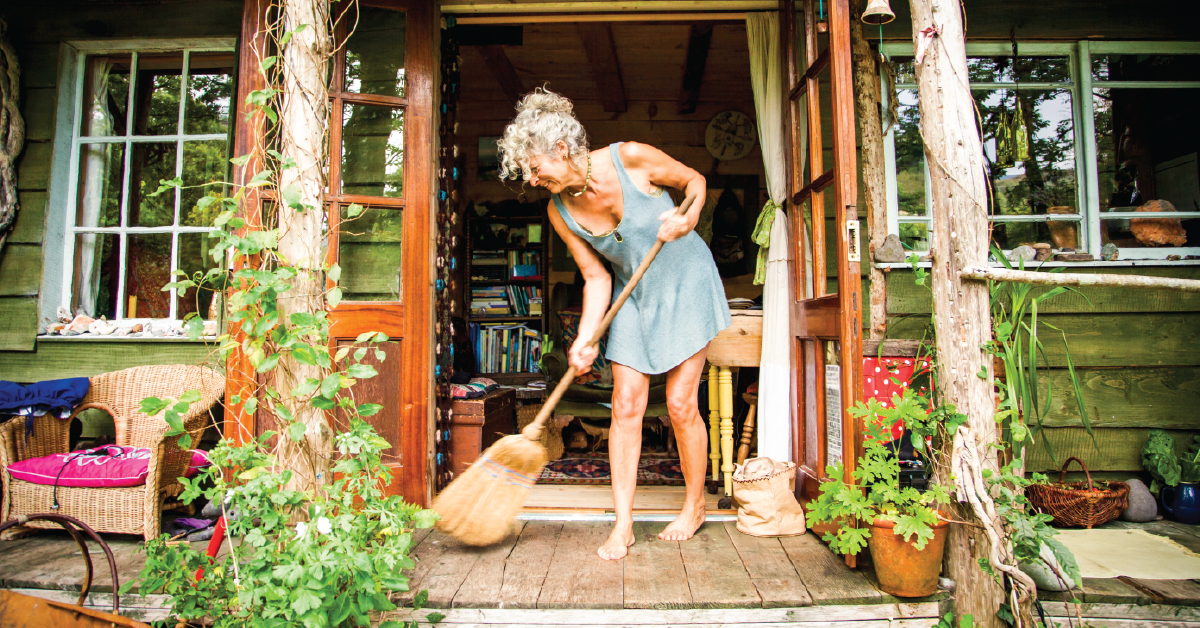 Imagine you're at home cooking dinner. You strain to reach the spaghetti pot in the upper cabinet. The kitchen mat slips under your feet, and down you go. Or consider this scenario: You rush down the stairs to answer the doorbell and trip over a pile of paperwork you've been meaning to file away.
Every year, one in four people over age 65 experiences a serious fall. And for seniors, falling is the primary cause of severe injury, such as a broken hip or head trauma.
Why are falls so common? Aetna medical director John Moore, DO, believes it's an unfortunate consequence of feeling young at heart. "Most of us have this confidence as we get older that we'll be fine," the senior health specialist says. "The truth is, losing your sight, becoming forgetful or declining strength may go unnoticed for quite a long time. Meanwhile, even one of those factors can make you far less agile than you were even a year ago."
Don't let worrying about a fall get in the way of staying active and involved. Read on for seven simple ways you can fall-proof your life.
Keep moving to stay strong.
As you get older, it can take more effort to preserve your strength and stability. Regular exercise is important to keeping muscles and bones healthy, preventing stiffness and maintaining balance. Any movement is beneficial, including walking, swimming and yoga. One study found that older adults who practiced tai chi ― a traditional Chinese exercise featuring slow, graceful movements ― cut their risk of falling in half. Look for classes at your local senior center or YMCA.
Your primary care physician may also refer you to a rehabilitation or exercise therapist, who can develop a personalized fall-prevention program just for you.
Read about the best cardio exercise for people with arthritis.
Discuss changes in ability with your doctor.
If you're over 65, add fall prevention to the topics you discuss at your annual checkup. This is the time to bring up new limitations you've noticed, no matter how small they may seem. For instance, if you can no longer get the watering can down from that high hook on the wall like you could a year ago, tell your physician. The change may have to do with weak muscles, stiff joints or other factors that can make you more vulnerable to a fall.
Make sure you mention any problems with balance and minor falls, even if you weren't hurt. "Any of us can fall because of a silly accident. But as we get older, it's important to investigate other possible reasons why you might have fallen," Dr. Moore says. If your doctor recommends physical therapy or a cane, don't brush it off. Following doctor's orders will help keep you on your feet.
Reevaluate your meds on a regular basis.
Many seemingly harmless drugs can cause dizziness, drowsiness or dehydration, putting you at risk for a fall. Discuss all your medications and supplements, both prescription and over-the-counter, at each checkup. As we age, our liver and kidneys slow down, making medications linger in our system longer. Your doctor may decide to lower your dosage due to new side effects.
To help you take your medications as prescribed, some Aetna pharmacy partners provide free "dosage packing" services that presort your pills into daily or hourly packets. Ask your pharmacist whether dosage packing is available.
Get your vision and hearing checked frequently.
Put eye and hearing exams on your list of preventive screenings, along with colonoscopies and mammograms. "Hearing loss and changes in vision happen so slowly, you might not notice," Dr. Moore says. Waiting too long between checkups could mean that you don't see or hear certain hazards, like an oncoming bicyclist. If your doctor recommends glasses or hearing aids, it's wise to heed his or her advice and wear them.
Read more about the preventive care screenings commonly covered by health insurance.
Declutter and reorganize.
Many older adults have been in their home for years, if not decades. All that precious stuff you've accumulated could one day become a hazard. Just as you'd baby-proof to protect visiting grandchildren from unforeseen dangers, consider cleaning house with your future comfort in mind. Start with this checklist:
Create clear walking paths through rooms. Remove small furnishings, plants, floor lamps and power cords that present a tripping hazard.
Clear shoes and clutter from stairs, landings and doorways.
In the kitchen, keep cookware in easy-to-reach places.
Clean out overstuffed closets. Consider lowering rods for easier access to hanging clothes.
Make indoor repairs and improvements.
Home is your safe haven, where you let down your guard and forget your worries. Keep in mind, however, that 6 out of 10 falls happen in the home. The easy home upgrades listed below can make your daily surroundings safer and give you peace of mind.
Fix broken steps and install handrails (and use them).
Paint doorsills a bright contrast color to avoid tripping on them.
Remove small throw rugs or secure them with non-slip backing.
Use a stable stepstool with handrails when reaching for high shelves, or get a "reach stick."
In the bathroom, place a rubber mat or non-slip strips in the tub, and install grab bars around the tub and toilet areas.
Keep your home brightly lit, especially the entry and outdoors. Use nightlights at your bedside, in the bathroom, kitchen and anywhere else subject to middle-of-the-night visits. Keep a flashlight next to your bed for emergencies. 
Be extra cautious outdoors.
The most dangerous falls happen right outside your front door, according to Dr. Moore. Watch out for wobbly boards in decks, cracks in the patio, slippery pavers, fallen tree branches and potholes in the lawn. For added security, follow these good practices:
Wear proper shoes, especially in rain or snow. Shoes should be closed in front with low heels and non-slip soles.
Stay home in bad weather. If you must go out, have a loved one accompany you. "You just can't be safe enough," Dr. Moore says. "When there's snow or ice on the ground, sometimes the best thing to do is just cancel your appointment."
Resist the urge to walk and text, or anything else that distracts you from the path ahead. 
You may feel steady as a rock today. Keep it that way by taking fall prevention seriously. As writer Jana Kingsford says, "Balance is not something you find; it's something you create."
What Medicare plan do I need?
Answering a few questions may help you find the right Medicare coverage.
About the author
Brooke Showell is a writer and editor whose health, fitness and psychology stories have appeared in Self, Health, Woman's Day and Redbook. She's very into the idea of fitness travel and plans to one day take her yoga practice to the beach.