When a new farmers' market opens in Philadelphia, Bill McKinney starts asking questions: How many people are showing up? Can they walk there? What are they buying? Is it affordable?
Yes, Bill is naturally inquisitive. He has a Ph.D. in anthropology, after all. But as executive vice president and director of research and evaluation for The Food Trust, he's tasked with analyzing such details. His findings help policymakers, educators, farmers, grocers and community leaders measure which initiatives are working to ensure everyone has access to nutritious, affordable food and information to make healthy eating decisions.
Since opening its first farmers' market in Philadelphia 25 years ago, The Food Trust has led efforts to stock corner stores with nutritious foods, make healthy food cheaper, educate families about good eating habits and open supermarkets in low-income areas. The nonprofit also runs 22 farmers' markets in the city and programs in 70 schools. And its reach continues to expand nationwide, with initiatives in 37 other states, including Delaware, New Jersey, Ohio and California.
So far, the nonprofit's efforts are working. A 2014 study conducted by the Philadelphia Department of Public Health found that obesity rates among the city's school children decreased by 6.3 percent since 2006. Officials attributed the decline to the comprehensive approach from its many partners, including The Food Trust. (See how The Food Trust is transforming neighborhoods below.)
"To build a healthier world, you have to work in one community at a time," says Amy Clark, senior program officer at the Aetna Foundation, which funds The Food Trust's youth leadership program, HYPE (Healthy You. Positive Energy.). "Organizations like The Food Trust realize that eliminating food deserts [areas lacking healthy food providers] requires multiple approaches and cross-sector collaboration."
For Bill, 47, and his research team, that means everything from asking neighbors if they can afford the fresh vegetables at the corner market to monitoring how many blood pressure screenings were given at those stores. It's all part of a larger strategy to develop long-lasting, impactful programs. But, he points out, increasing the availability of healthy, nutritious food to historically low-income communities can't happen with just a singular program. It takes an array of initiatives feeding off each other.
Here, Bill shares his thoughts on how to bring nutritious food to more people.
Q: How do you apply your background in anthropology to public health?
A: Over the course of my career, I've worked in everything from education to housing to community development to violence intervention programs, and all of that comes into focus at The Food Trust. The reality is that those who are susceptible to having a lack of access to healthy, nutritious food are also probably most susceptible to poor housing, poverty, a poor education system, violence. Understanding that individual's cultural, political and economic context is how we're able to have the greatest impact in any intervention we're doing.
Q: What role does the research team play at The Food Trust?
A: At The Food Trust, we see ourselves as a living lab. We have a strong in-house research team that allows us to identify when something is or isn't working so we can make immediate adjustments. It's identifying where the greatest disparities are, where folks are underrepresented in the resources they have. And that's where we try and set up shop.
Stocking corner stores with fresh produce is one way Bill McKinney and The Food Trust are ensuring everyone has access to nutritious food.
Q: What are some of the programs at The Food Trust and how do they improve food access?
A: We have a very comprehensive approach. For example, young people can go to our One Healthy Breakfast program in their school and get nutrition education. They also join our leadership program, HYPE, where youth leaders are helping to set wellness policies in their schools. After school, instead of stopping for junk food at a corner store, kids can buy something nutritious at a store that's part of our Healthy Corner Store Initiative. Parents can go to that store and meet a nutrition educator who's doing cooking demonstrations and helping people shop. A hospital can do a health screening there. There's also a farmers' market within walking distance, or a grocery store built through Healthy Food Financing, a government funding program that promotes selling healthy food in underserved areas. It's whole person, whole family, whole community.
Q: How has your work with The Food Trust impacted your personal life?
A: Fifteen years ago, I built a number of raised beds for tomatoes and peppers and strawberries and all sorts of lettuce, collards. A few years later, I said, "What else can I do?" So I got chickens and built a little chicken run. Then I started building aquaponics systems [a water tank, pumping and piping structure] to grow fish and plants that were feeding off the system. Now, there are pipes running along the sides and roof of my house. I grow dozens of pounds of tilapia every year, hundreds of units of lettuce and make hot sauce from the cayenne and tabasco peppers. It's a great example of how we can utilize and maximize what's already in our environment.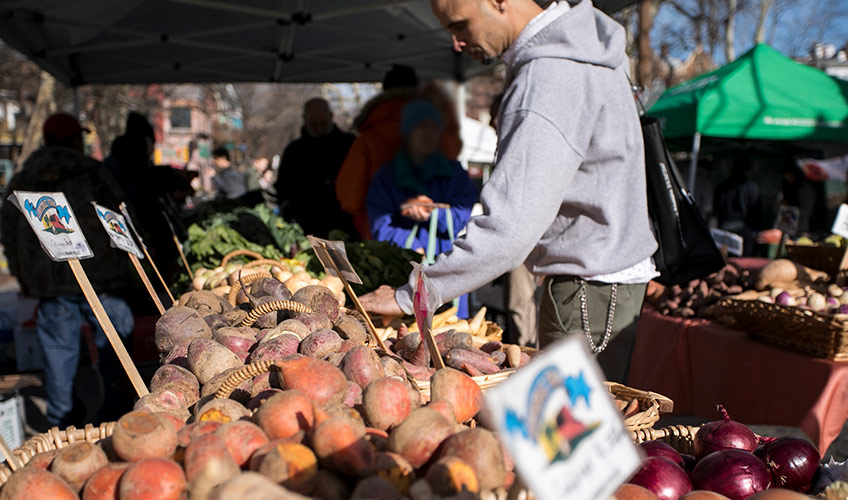 The Food Trust runs over 20 farmers' markets in Philadelphia.
Q: What do you do with all the food you grow? Are you a good cook?
A: I can't eat all of it, so I just give it away. I bring it to work or give it to neighbors. They'll be walking down the alley behind my house and someone will say, "You got any strawberries?" And I give them a bunch of fresh strawberries right off the vine. My chickens produce about 20 eggs a week. Now, neighbors will have their dozen eggs. I'm a decent cook, not the greatest. But you can get away with not being a great cook if you have good, fresh food. I cook stuff that enhances the natural flavors – roasting fresh peppers and onions and grilling fish from the aquaponics system. I can have a salad with carrots and radishes from the garden, and for dessert, homemade strawberry or raspberry sorbet.
Q: As someone who grows food in their own home, what would give you the most joy?
A: I'd love to buy the abandoned church next door and expand the aquaponics system to feed the neighborhood. Once I'm onto something, I love to figure out ways to expand it and make it more accessible to more folks. My real purpose is to be a part of change and do what I can for others. Knowing that there are changes in people's knowledge, attitudes and behaviors – those are significant things to feel you're having an impact on.
Bill sees his work with The Food Trust as part of his larger calling to help build healthier communities. It's about more than giving someone a piece of fruit. It's about giving them the tools to create a better future for themselves and their families. "Having access to nutritious food is something that every individual should have. It is a right," Bill says. "This is a health issue, but it's also a social justice issue."
About the author
Christina Joseph Robinson is a veteran editor and writer from New Jersey who still loves to read the old-fashioned newspaper. She's raising two fruit-and-veggie loving daughters to balance all the treats Grandma sends their way. Christina's health goal is to resume her workout routine after being sidelined by injuries.