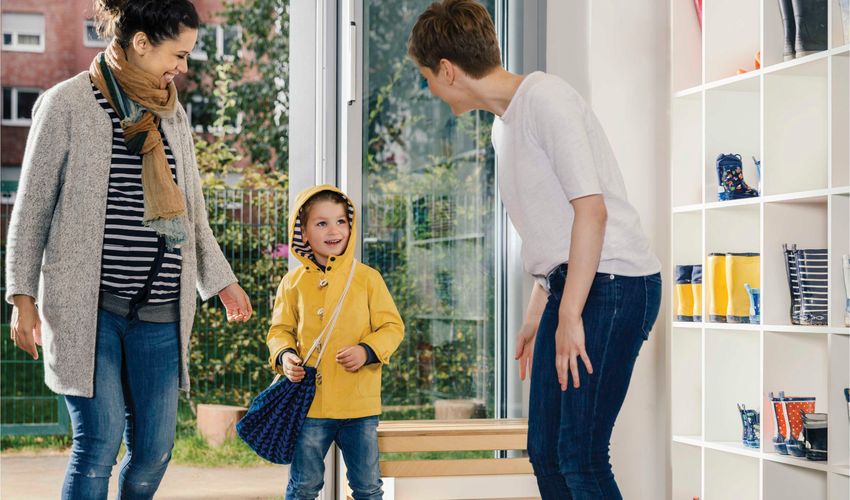 After 23 years in the classroom, Marjorie Soffer still enjoys being a teacher. "You go into it because you love kids. You love helping them and seeing that lightbulb go on," says the sixth-grade educator from Boynton Beach, FL.
Working with parents, however, can sometimes be more challenging. Marjorie says that over the years, she's noticed a shift in parents' attitudes toward teachers. "It went from us working together to the teacher versus the parents or the teacher versus the kid," she says. "I think it's important for parents to realize that we're all on the same team."
Marjorie isn't the only teacher who feels this way. Two-thirds of educators cited working with parents as a leading source of stress, according to a 2017 Aetna research study of teachers, staff and administrators from schools across the country. State testing requirements, classroom behaviorial issues, budget restrictions and growing class sizes also topped the list.
Yet the relationship parents have with teachers is important, explains Brooke Wilson, head of Worklife Services, Aetna Resources for Living. "A strong relationship between a teacher and parents of their students can lead to a more supportive and successful learning environment and lifelong value of education," she explains. "But these relationships take work. They can be stressful and need constant communication and collaboration to build trust. Developing strategies to manage those potentially stressful interactions can lead to constructive and positive outcomes."
As the new school year approaches, we asked educators what you can do to put your relationship with your child's teacher on solid footing and help make this the best year yet. Here are their top tips:
Tell us when there are major changes at home. 
Whether it's an upcoming move or a health issue in the family, disruptions in the home can affect your child's performance at school. It helps to clue in their teachers, who can be part of "a network of people who understand what the student is going through and be able to work with them through it," says Lily Read, an educator in Cambridge, MA. Last year, a student in her tenth grade history class bombed a midterm exam after starting off the semester strong. Lily later learned the teen's parents were divorcing. She says if she'd known earlier, she could have provided the student more flexibility with assignments and asked for help from the school's counselor, fellow teachers and administrators
Come to us if you're concerned about what's happening in class. 
Worried your child is being bullied  or not getting along with another student? Talk to the teacher, who is in the classroom every day and often best positioned to resolve issues there. "Guidance counselors or school administrators often don't know what's going on in individual classrooms. Parents may want to reach out to the teacher for assistance as well as the administrators," explains Heather Doyle, an elementary school teacher in Seminole County, FL. 
We can't always respond to messages during the school day. 
You may be able to check email multiple times a day at your job, but most educators can't because they're busy in the classroom. This means responses often come before or after school hours. "If there is an emergency, always call the school's main office," says Melanie O'Connor, an elementary school teacher in Enfield, CT. "Otherwise, please give us 24 hours to respond." 
Express your gratitude. 
Between the long hours, rising class sizes and demands of standardized test prep, teachers' jobs are harder than ever. Counseling, workshops and online tools can help educators manage their day-to-day stress, and some Aetna members can also access such benefits through the School Employee Guidance program . "A teacher's workday does not end when the last bell rings," says Brooke. "With the School Employee Guidance program, teachers can connect to support when and how they need us, so that when the first bell rings the next day, they have all the tools in their back pocket to do the job they were inspired to do."
Of course, a simple note of support from you can also bring a smile to a teacher's face on an otherwise tough day. "It might seem a little silly, but just getting a short 'Thank you for all your work' or, even better, a specific email with a way we have helped your child makes all the difference," Lily says.
Don't rush to "fix" the occasional bad grade or mistake. 
When your child receives a less-than-stellar grade, resist the urge to swoop in and make it right. "Don't always jump to bail out your child," says Cristina Cutrone, a high school social studies teacher in Tenafly, NJ. "There are many times kids learn so much more from failure than they do from success." 
The same rule applies to your child's homework. "When a second-grader does a project and the letters aren't straight or the border around a poster is uneven, that's okay," Marjorie says. "But when they hand it in looking like a graphic designer did it, and you know that the kid didn't do it… What is the child going to do when he gets to a place in life when Mommy isn't there to fix things?"
But do keep an eye on your child's grades throughout the year. 
If panicking over your kid's D- on a test is an issue, so is taking a hands-off approach to grades, say educators. Zachary Jankowski, a high school Advanced Placement statistics teacher in Leechburg, PA, says he's found that students who struggle the most have parents who aren't paying attention to their grades — this, despite the fact that his student's report cards and test scores are available online. "Checking grades throughout the year would prevent the normal, end-of-the-year 'freakout,' where the parents are surprised and blaming the school for their child's failing grades," Zachary says. 
Don't have online access to your kid's report card? Be sure to check tests and any assignments brought home from school. You can also call or email teachers for updates and discuss ways to work together to help stop or reverse a slide in grades.
Your attitude about school matters.
Teachers often have to overcome students' apathy or disdain for schooling. So when a kid comes to class eager to learn, they consider half the battle already won. You can help influence your child's attitude by speaking positively about school at home. "Kids whose parents encourage learning are happy," says Marjorie. "They're excited to go to school every morning. They're excited to learn. They behave beautifully because they know that it matters to their parents, so it matters to them." 
After all, when teachers and parents have a good relationship, they can work better together to help a child thrive. And a child who's learning and growing is often what makes teachers happiest of all. "We want the best for them," says Lily. "I don't know any educator who doesn't."
About the author
Alice Gomstyn is a veteran parenting blogger and business reporter. She is an admitted sugar addict but plans to cut back on the sweet stuff and load up on veggies like never before. Bring on the broccoli!