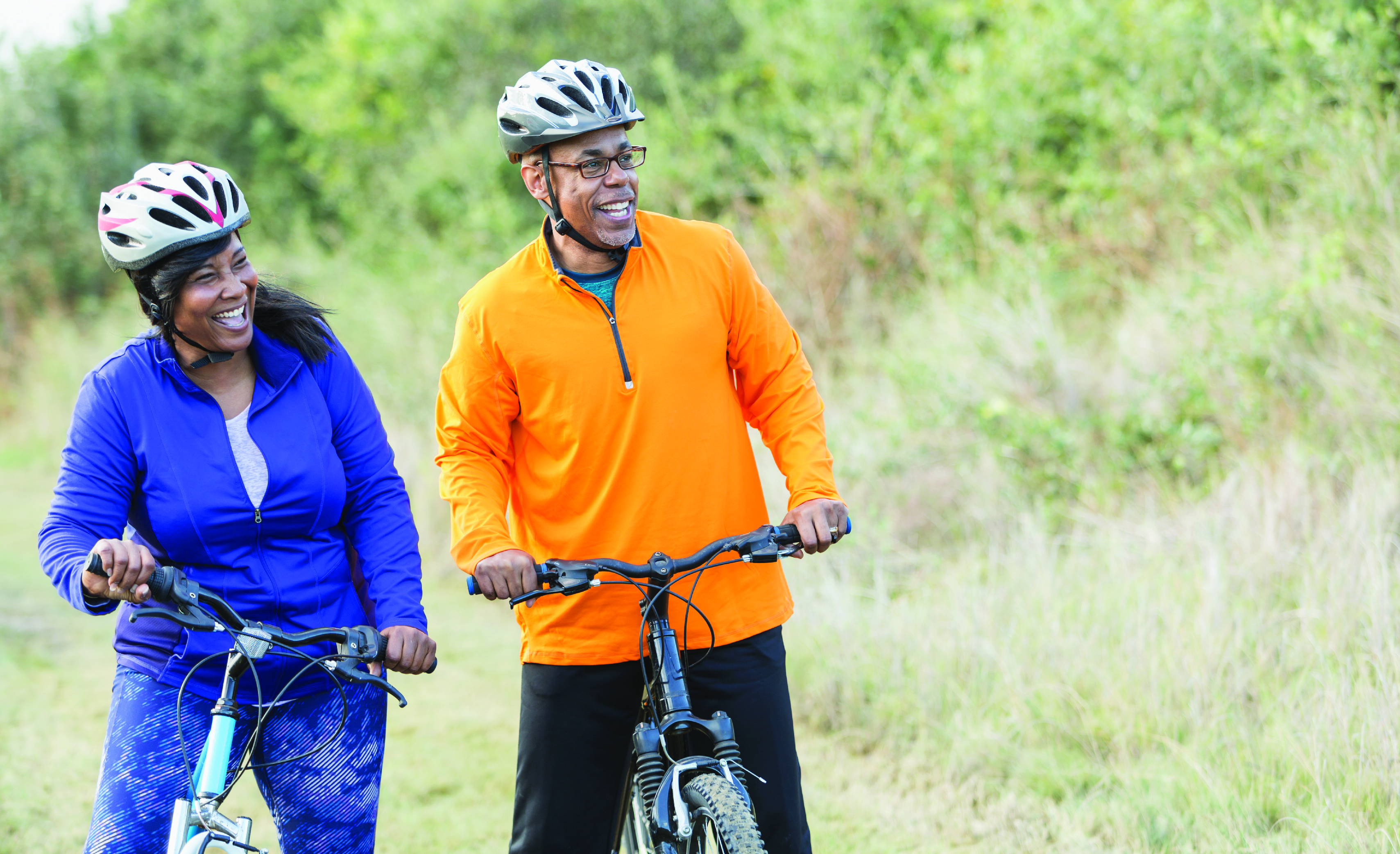 A milestone birthday. An unexpected diagnosis. The desire to start a family. Sometimes it takes a meaningful moment to encourage you to take the first step toward better heath.
"Nothing motivates you better than a real need for change or real health scare," says Gabriela Cora, MD, a board-certified psychiatrist and a medical director for Aetna Behavioral Health. "As you start making some of these changes, make a list of your goals, assemble a support team, personalize a plan that's right for you and reward yourself for positive outcomes."
We asked five people what motivated them to make positive changes in their health and how the journey has impacted their lives. Read on for inspirational stories about how they found the courage to get started.
"One day I looked at my kids and said, 'I have to do better. When do I start? How do I begin?'"
— Walter Douglas Jr., 50, West Orange, NJ
Three things made me want to turn my health around: I was turning 50. I had put on weight and wasn't very mobile, so my body started to hurt and I was out of breath. I looked at my two kids and was like, "I'm going to stroke out or do something and not be here for them." I was just terrified of doing that to them.
Every year in January, I get an annual physical. At my last one, my internist read me the riot act because I hadn't been very compliant with my blood pressure and high cholesterol medications. On top of it, I was complaining about the weight and the body aches. She said, "If you're not going to take care of yourself, then why are you coming here?" So my first step was to begin taking my medications every day.
I had hired a trainer in February but didn't stick with it for long. One day, I looked at my kids and thought, "I have to do better. When do I start? How do I begin?" There were 50 days before my birthday, so I decided to start with 10 push-ups a day. I also started drinking more water and stopped eating fast food and fried foods. Ten push-ups a day very quickly became 12 push-ups, which became 12 push-ups and 25 sit-ups. All of a sudden that became three sets a day. Now, every day I do 25 push-ups and 50 sit-ups, minimum.
I also re-joined the gym so I could at least ride the bike a few times a week and do 20 minutes of cardio. I feel a difference. I see the difference. It's been exciting. I feel like I'm on the right path. And I'm not trying to rush it.
Read on for tips about kickstarting a fitness plan.
 "I was very scared about going to the operation table. I realized I needed someone to be with me."
— Petrona Nuñez Montúfar, 65, Scranton, PA
I had cysts in my ovaries and spent two months in pain. I needed surgery, but I was very scared about going to the operation table. My mother died in the same surgery, and I thought the same thing would happen to me. I needed someone to be with me [at the hospital] so I could feel strong and positive. Rita, my Aetna community worker, my guide, gave me the strength to get to the table. She was present at my surgery as if she was my angel. I felt like I was with a loved one.
My English is poor, and before Rita, I wasn't able to express myself to my doctors. I didn't have anyone to trust. It's very important to have somebody to make us feel [comfortable], somebody who makes us feel like we're at home. Rita does that. She takes me to the doctor, and she translates for me, to help me. She's helped me to be better in my health and spirits. I don't feel pain anymore in my ovaries.
Now, I feel I can navigate my health. I'm trying to fight my other sickness — gastritis, arthritis — to be able to give myself strength and the energy to dance. When I dance, I feel like I'm 15, like a spring flower, I forget about my old age. I understand health is wealth. Having health is having more than money. It's something great, it's a blessing.
Learn more about Petrona's story.
"I didn't want to get full-blown diabetes. I knew I had to get back on the right track with my diet."
— Annie B., 67, Monroe, GA
My sugar was going up. The doctor kept saying I wasn't quite a full diabetic, but I was on the borderline. That was about three years ago. I thought, "I don't want to get full-blown diabetes. Let me get back on the right track." I was determined not to take any pills. I started eating right and learning to eat more vegetables, reading my carbohydrates and checking my blood sugar.
I don't eat too much fried food; everything I eat is baked, grilled or boiled. My daughter is a health nut, and she's got me eating turkey bacon and sausage. It's a lot better than I thought. I used to eat at fast-food restaurants. I used to eat biscuits. I didn't realize bread was a contributor to diabetes.
Now I go to the doctor to have my sugar checked every three months. It's been stable so I don't have to take medication. I work as a paraprofessional in the media center at a school, so I walk a lot. I just feel so relieved. And my body feels lighter.
"I discovered I had a chronic condition, and I knew I had to prioritize my health to manage it and live my best life."
— Darnley Beckles Jr., 72, Bronx, NY
In 2003, I had diarrhea for a couple of months, and I blew it off as just a bad bug. Then I went to a concert one night and got really sick. The doctor diagnosed me with ulcerative colitis, a chronic inflammatory bowel disease that causes inflammation of the digestive tract. The cause of it was unknown, but stress aggravates it. The doctor put me on medication, but I also realized I had to figure out how to reduce my stress to help control it. I was working as an administrator in the New York City public schools, and the environment was stressful.
At the end of that school year, I took a leave of absence for one year. When I came back, I stopped doing summer school work, as well as after-school programs. Then, a year or two later, I stopped refereeing youth football games on the weekends. I retired five years after my diagnosis.
You have to put your health first, and then you have to figure out how to financially survive under that goal. I was fortunate. If I'd been 42 and my doctor said I had to give up my job, then that's what I would have done. Find a job that's a lot less stressful. When I was retiring, I was encouraged by the pension consultant to work an extra year so that I would get $7,000 more in my pension. I told her, "I don't want to take that chance. I put my health first."
Now, I listen to a lot of jazz music. I read, travel a bit, and spend time with friends and family, my daughters. The doctor says my weight increased, a sign the colitis is under control. As for the condition, you learn it's a part of life, and it's something you just obviously have to deal with, and do the best you can.
See how you can manage a chronic condition.
 "I had to hit rock bottom before I could say, 'I'm done. This is not my life.'"
— Nakeisha Russell, 37, Fort Myers, FL
Our daughter was born in 2010. Life was great at first, but then my husband and I began having marital problems. When my daughter was just 6 weeks old, I started drinking wine with my co-workers when we'd go out once a month. But over time, my drinking increased. My husband was working late and our relationship deterioriated. Eventually, I started drinking to go to sleep. Soon, I was drinking all the time just to feel normal. I later learned that a gastric bypass surgery I had several years earlier was a contributing factor to my body becoming dependent on alcohol.
I went to rehab in 2016, for nine months. I'd love to sit here and say, "I did it for my child." No, I did it for me. After rehab, I came home and tried to get my life together. But I started going back to old habits: I lived alone every other week when my daughter was with her dad. I didn't go to Alcoholics Anonymous meetings. I isolated myself. Then I began drinking again.
They tell you in AA that you have to hit rock bottom before the problem hits you. That's when you say, "I'm done. This is not my life." For me, a stint at homelessness, asking my college sisters for money – maybe that was my rock bottom. I contacted a rehab that was different from all the other places I had tried because its staff was mostly black, like me. Maybe that's what I needed.
I've been sober nearly a year, and my daughter is doing great. She still stays with me every other week. I have no shame about going to AA or rehab. I just want other people, especially black women, to know that we don't have to suffer in silence. I don't like depending on anybody. I'm still working on being able to say, "Hey, I need help." But you know what? I say it now.
Whether you want to break a bad habit, start a new fitness routine or get the help you need, taking the first step to living a healthier life can be challenging. But by discovering your motivation and sticking to your plan, you can help set yourself up for lasting change.
About the author
Christina Joseph Robinson is a veteran editor and writer from New Jersey who still loves to read the old-fashioned newspaper. She's raising two fruit-and-veggie loving daughters to balance all the treats Grandma sends their way. Christina's health goal is to resume her workout routine after being sidelined by injuries.