Ron Pauline walks one block from his Jacksonville home to the small Metro North Garden in the Brentwood neighborhood of Jacksonville, Florida. There, the 79-year-old community activist guides the tiny hands of local children as they explore the soil and plant the first seeds of what eventually will become a tasty snack. It's a labor of love for Ron, who has been beautifying neighborhoods for more than seven decades, starting with his mother's garden.
His goal is to cultivate a love of gardening — and, by extension, a love of self and community — among the children from the local daycare All About Kids Learning Center and the after-school program run by 2nd Mile Ministries.
Once harvested, the fresh produce grown in the Metro North Garden is distributed to about 70 to 75 children in the daycare or after-school program, to take home. On occasion, the kids receive lessons on nutrition and healthy eating habits from volunteers. It's a small, but important investment in a neighborhood where 43 percent of children live below the poverty line, according to statistics from 2nd Mile Ministries, an organization funded in part by the Aetna Foundation that helps Jacksonville in a variety of ways, including bringing community gardens to the neighborhood. "It's about building healthy families, healthy children and healthy lives," says 2nd Mile Executive Director Jonathan Blackburn, of the effort.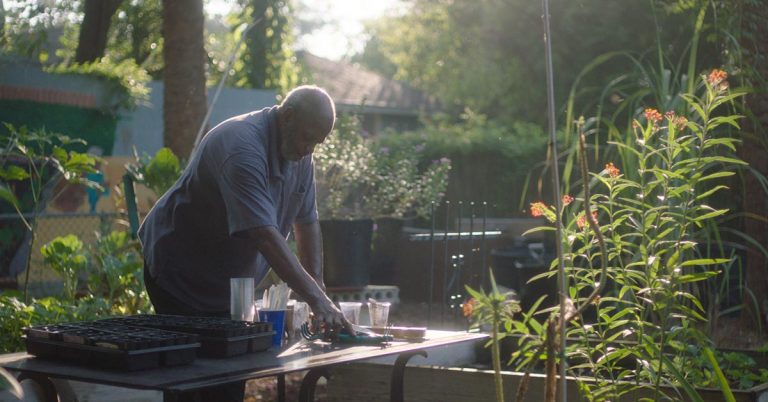 Ron Pauline tends to the community garden in Jacksonville.
Ron hopes the garden's presence outlasts his involvement. After a decade, he's officially passing the torch to 2nd Mile. The nonprofit organization will maintain the garden, coordinate volunteers, distribute vegetables and develop programming for local children. "It's an immaculate place and I would like for it to be that way all along," says Ron, who wants future volunteers to love the project — and the children — as much as he does.
Ron shares his thoughts on improving the health of future generations in Jacksonville and the next phase of his life.
Q: How did you get interested in gardening?
A: I've been around growing all my life. Starting around age 5, I had assigned duties in the yard with my mother's flower beds, and I had to keep the bamboo hedge on the side of our house trimmed perfectly. My uncle also lived on the outskirts of town, and he grew a lot of vegetables, so I helped him out. My mother and my relatives all had beautiful yards; that's one thing I'm very, very particular about.
Q: How did a hobby become your life's work?
A: Starting in the 1980s, I was the executive director of the Aurora St. Anthony Neighborhood Development Corporation in St. Paul, Minnesota. I did that for 20 years. We built and renovated some houses, but we were founded on helping to improve the aesthetics of the neighborhood. We created three gardens around the area on empty lots the city donated. And after eight years of lobbying, we also got the city to tear down a large theater that was a blight on the area and lease the lot to us for $1 a year. We eventually put a farmer's market on the grounds. Not only did we beautify that corner where the farmer's market was, but we beautified the neighborhood. Everybody started planting flowers in their yards.
Q: How did the Metro North Garden in Jacksonville come to fruition?
A: I was asked to start a neighborhood association when I moved back here to Jacksonville, in 2000. In the lot where our garden is now, was a house that had a fire. The city bought the lot and donated it to our group, the Metro North Community Development Corporation, where I was executive director. We started the garden in 2007. We got some money initially to do a lot of major stuff, like bringing irrigation to the site. And we've maintained it since then.
Q: Why invite children to work in the garden?
A: We call it a "nutritional garden" because we use it to teach adults and kids to grow food. It's a small garden. The reason I like to work with kids is because we live in such a complex society now, but a garden is very simple: Put this seed in the ground. Water it. Keep the weeds from it. And in a couple of months or so, you'll be able to eat what you've planted. I've been very pleased with many of the young people who have been in the program and are enthusiastic about growing crops.
Q: Do you think that you're teaching kids more than just gardening skills?
A: Oh, yeah. First of all, we're teaching patience. Nothing grows overnight. It takes a while, so you've got to teach them that. And the way I maintain the garden, we're teaching aesthetics. It's very, very important that you keep everything attractive, appealing. If you don't maintain the garden, it becomes an eyesore to the neighborhood. Sense of place, too, that's what we're concerned about. It's not where you live, it's how you live. Aesthetics has a lot to do with your confidence level.
Q: What results have you seen from the program?
A: Young people aren't just doing work in the garden — now some are interested in having a little garden at home. We give them a pot so they can plant something at home and grow it. At least that way they have access to real, wholesome food and they know how to produce it.
Q. What's your personal motto?
A: "The early bird gets the worm." I wake up between 5 and 6 a.m. The earlier you can get somebody to meet with you, the more edge you have. If I catch you before you have that second cup of coffee, I got you right where I want you. I've gotten great cooperation from many city officials, vendors and residents using this tactic — people seem more receptive to new ideas early in the morning.
Q: What's a healthy habit you've picked up over the years?
A: I just stick with the old school. Oftentimes in the morning, I drink a glass of vinegar and honey. It's supposed to help with inflammation. And I do things in moderation; I haven't cut stuff out. I grew up on certain foods, and on occasion, I still eat pigs' feet, greens and chitterlings.
Q: What's your top priority?
A: I retired seven years ago. It's the first time in my adult life that I've had time to myself because I was always going. I wish for the rest of my life I can share all the positive experiences I've had with other people.
Ron is confident the garden is in good hands with 2nd Mile Ministries at the helm. Check out the video below to learn more about the work 2nd Mile Ministries and other organizations are doing to bring healthy food to the Jacksonville communities that need it most.
What Medicare plan do I need?
Answering a few questions may help you find the right Medicare coverage.
About the author
Christina Joseph Robinson is a veteran editor and writer from New Jersey who still loves to read the old-fashioned newspaper. She's raising two fruit-and-veggie loving daughters to balance all the treats Grandma sends their way. Christina's health goal is to resume her workout routine after being sidelined by injuries.