The United States Navy might seem an unlikely training ground for a dietitian, but that's where Katherine Smith, a registered dietitian nutritionist (RDN), got her start. As an officer in the Medical Service Corps, Katherine spent seven years supporting military families and retirees in hospitals across three naval bases.
Katherine, who lives outside Atlanta, now brings her expertise and empathy to her role as an Aetna health coach, working with members like Cory Metzler. Over six years, Cory gained 100 pounds, neglected important health screenings and became depressed. That's when Katherine stepped in.
"We set up regular monthly sessions, and her consistency and kindness set my compass." Cory says. "Katherine would not let me fall even when I felt like I couldn't go on." In fact, Cory has made amazing progress, losing 97 pounds and setting her sights on a marathon. To learn more about Cory and how she achieved her health goals, watch "My health story: Finding my center".
Cory describes Katherine as her "hero." Here is Katherine in her own words.
Q: How long have you worked in health care? 
A: I have been a registered dietitian for over 20 years. In Aetna's Healthy Lifestyle Coaching program, I support members over the phone. We work on general wellness issues like weight, stress and tobacco cessation. I also receive referrals for people who want to focus on nutrition, including managing diabetes and hypertension.
Q: Why did you want to become a health coach?
A:_After working in an inpatient hospital setting for 15 years, I wanted to have more follow-up. Interactions in the hospital are brief and limited. With coaching, I can work with members over an extended period of time and have a much greater impact. I feel a huge sense of accomplishment when my members are successful at improving blood glucose, losing weight or incorporating physical activity into their routine.
Q: What was your strategy when you started working with Cory?
A: I focused on being very patient. Cory had a lot of anger when we first met. I knew she wanted to be healthy, but she needed patience, support and encouragement. Our sessions helped her focus and set goals at a realistic pace, with accountability.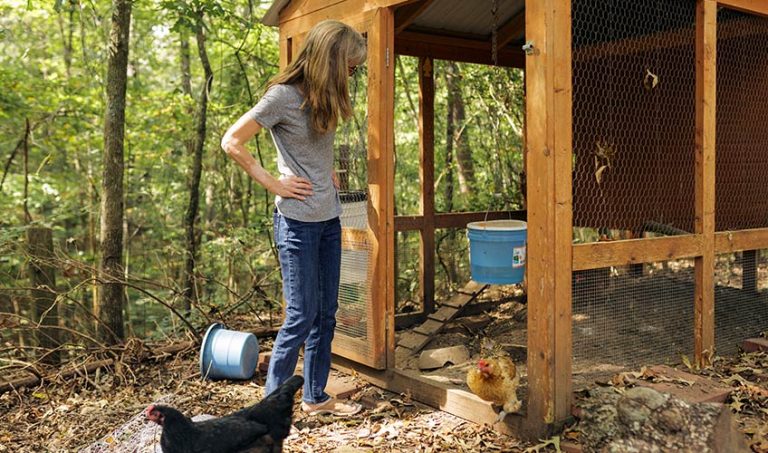 Katherine tends to her chicken coop

Q: What motivated Cory to achieve her health goal, and how did you help?
A: Cory is very intelligent and self-motivated. She did quite a bit of research on her own about the process of changing habits over time. Together we worked on following through. For example, Cory was very reluctant to have any preventive exams. She was embarrassed due to her obesity, and had a lot of stress and anxiety around going to the doctor. I suggested a functional medicine doctor, who offers a more holistic approach, and that worked for her. She often thanked me at the end of our sessions for "helping to connect the dots" and allowing her to reach her full potential.
Q: How do you coach someone whose physical health is impacting their mental health?
A: A lot of coaching centers on motivational interviewing, so I can really understand what makes someone tick. Then I can match my strategy to the person's interests and find what works for them. With Cory we started slowly with a walking goal, and advanced at her pace. She now sees exercise as her medicine and lifeline. She practices yoga and meditation, and no longer needs medications to manage her depression.
Q: What's the best piece of health advice you ever received?
A: Start walking and don't stop.
Watch a video on how Larry Beach walked his way to significant weight loss.
Q: What do you like to do in your free time?
A: I love to be outside in nature, usually walking or reading.
Q: How do you de-stress?
A: I make sleep a priority and find time for myself.
Q: What's one word you'd use to describe Cory and her health journey?
A: Tenacity. She never gave up.
About the author
Emily Leland is a writer and marketing professional living in Charleston, SC. Her goal is more exercise, less caffeine and finding balance as a working mom.