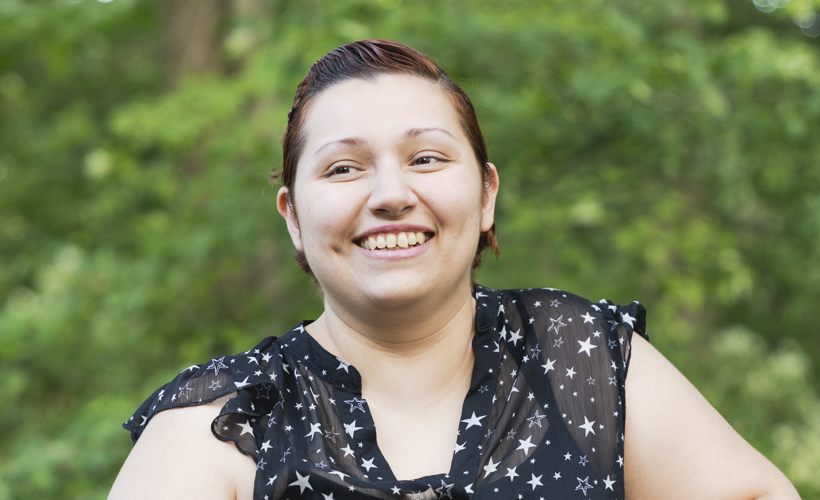 Rita Cardona has been advocating for others since she was 17 years old. That's when she began accompanying her mother, who speaks only Spanish, to doctor appointments and explaining complex medical terms in ways her mother could understand. By removing the language barrier, Rita was able to open the lines of communication between her mom and the health care providers. For the first time, her mom felt understood. She also felt like she was receiving the care and compassion she needed.
Even now, years later, the two attend every appointment together. "My mom feels secure that I am always going to be there for her to provide her with the help she needs," Rita says. "She does not feel alone."
Rita has channeled that passion for helping others into her role as a community health worker for Aetna. The Monroe County, PA, resident helps members — many of whom are Spanish speakers — express their concerns to their doctors and understand their care plan. She also encourages people to take steps toward living a healthier life, whether that means lining up transportation to and from doctor appointments or taking them grocery shopping for nutritious food.
For members like Petrona Núñez Montúfar, Rita's support has made all the difference. Thanks to Rita's guidance, Petrona has learned how to manage her diabetes and daily medications. She's also more confident about navigating the health care system.
Rita was also instrumental in giving Petrona the confidence to undergo surgery earlier this year to treat painful ovarian cysts — a procedure she felt anxious about. The two spoke at length about her concerns, and on the day of the surgery, Rita brought her to the hospital and stayed by her side. "Seeing Rita gives me energy, security and patience," Petrona says. "These illnesses wear away at my peace of mind, but she is guiding me where I want to go. She is breaking the barrier for me." (Learn more about Petrona's story here. )
Here, Rita talks about the role trust and compassion play in her work and the importance of taking care of your health.
Q. What made you want to become a community health worker?
A. I always felt the drive to help those who needed help, especially children and the elderly. When the opportunity to become a community health worker (CHW) for Aetna arose, I felt really excited. How could I say no to supporting people who need help accomplishing their health goals? Being a CHW means I can help those who have the resources but don't really know how to use them. I help people get better and advocate for them when they need it.
Q. What role do trust and compassion play in your work with members?
A. They're both important to the relationship I have with members. In this job, you have to show compassion. This is somebody's life, somebody's health. Trust is something you have to earn, and the only way to do that is to keep your word. If a member doesn't trust me, they won't open up to me and share their concerns and health problems, and I won't be able to help them.
Q. How do you balance between being kind and keeping people motivated to achieve their goals?
A. Being kind is just part of my personality. Keeping someone motivated is the hard part. Sometimes the member just wants to give up. But you can't get mad when they want to quit. You can only be kind to them and help them get up so they can keep going. The best way to keep someone motivated is to remind them of the reason why they made the commitment to get better. I like to remind people that there's a prize at the end of the road once they accomplish their goals.
Q. Not everyone has access to a community health worker.  How can people be their own best advocate?
A. Learn about resources you have access to. Find out about what your community provides that may be of use to you, like transportation, activities or help centers. Ask a friend or family member to help if you need it. And call your health insurer if you're not sure about your benefits or how to find a provider close to you. Member services can help if you need more information about resources, and case management can offer you extra help to follow a health plan, if you need it.
Q. What has been your most fulfilling professional moment so far?
A. My most fulfilling moment of this job was when I helped Petrona get the surgery she needed. She came out of it fine and had a good recovery.
Q. What's the best piece of health advice you've ever received?
A. Don't take your health for granted. One day we're here, and the next we can be gone. Take care of your body now, so your body will take care of you in your older days.
Q. What's your health ambition, and how are you achieving it?
A. My health goal is to lose the weight I gained during my pregnancies and from a condition I recently learned I have, called polycystic ovary syndrome (PCOS). The extra weight caused me to be pre-diabetic. But now, I'm taking medication for my PCOS and am exercising and eating healthy again.
Q. What do you like to do in your spare time?
A. I'm not on social media that much, and I don't watch TV. I'm more about enjoying the little things in life. I like to play with my kids, and go out with them and my husband. I also like being with my mother and talking about life back in her country and the family we still have over there.
Rita Cardona is a real member who's given us permission to use her story.
About the author
Bonnie Vengrow is a journalist based in NYC who has written for Parents, Prevention, Rodale's Organic Life, Good Housekeeping and others. She's never met a hiking trail she doesn't like and is currently working on perfecting her headstand in yoga class.