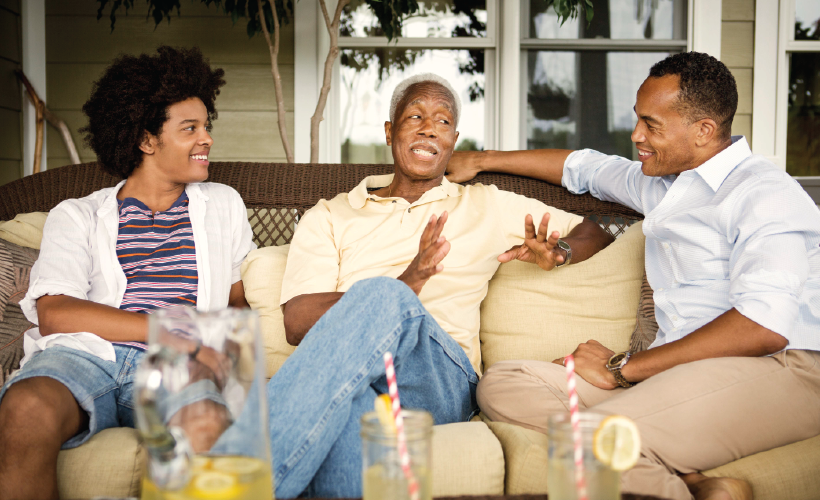 For generations, men have been passing down certain nuggets of advice to their sons: How to knot a tie, barbecue ribs to perfection or hit a ball down the the third-base line. What's missing? A conversation about how important it is for men to take good care of their health.
Men are twice as likely as women to avoid regular trips to the doctor, according to the Centers for Disease Control. That pattern can lead to health problems later in life. But some fathers are hoping to reverse this trend. We asked seven dads to tell us, in their own words, about their health regrets and successes, and the lessons they want to pass along to their adult sons.
"Find a doctor you can talk to, and check in regularly"
― Larry P., 66, Tenafly, NJ; two sons, 31 and 29

Growing up, the men in my life were reluctant to go to the doctor. My father was very old-school and got checked out only when he was really, really sick. But around the time I got married at age 30, I realized that if I went to a doctor regularly, he or she could catch problems early on.
Two years ago, my doctor didn't like the results from a prostate test. I didn't know it at the time, but he had been "watchful waiting" for several years because my PSA was slightly elevated. Once it got too high, he insisted I see a urologist, who sent me for a scan. That came back as "suspicious," and a biopsy confirmed it was cancer.
Fortunately, my prostate cancer was very slow growing so I had time to evaluate my options. I spent a solid six weeks reading online and getting second and third opinions. I explored radiation therapy, robotic surgery and traditional surgery.
Ultimately, I went with a well-known surgeon who I immediately felt was the "right guy." It's important to have good relationships with your doctors. I can text or e-mail mine with questions, and he responds fairly quickly. That level of access has been important.
Read tips on how to communicate with your doctor.
"Leave room in your bucket; work shouldn't fill up your life"
― Mark Holbert, 65, Metuchen, NJ; two sons, 28 and 26

From the time you're first able to talk, someone's asking you, "What do you want to be when you grow up?" No one answers, "I want to be a good father. A good husband. A good brother. A good sister. A good child to my parents." Consequently, you fill your life doing things that are oriented toward your career.
I spent my life trying to be somebody. I wanted to be a good employee, a good supervisor, a good manager. Honestly, that's what I was taught to do: study hard, work hard. But once you fill your bucket with all of that, you realize you haven't left any space for the really important roles in life or for your health.
I'd reschedule doctors' appointments two and three times because I didn't want to leave work during a "crisis." I'd grab something quick for lunch and eat at my desk, then pick up something for dinner on the way home late. I was sedentary, not doing any cardio, even though we had gym memberships up the wazoo. We had a basement full of exercise equipment and I never used it. I had diabetes and hypertension. I was stressed and dependent on alcohol and cigarettes. When I retired, I looked back and said, "Well, boy, did I blow that!"
I'm using this time as a reset. I can't make up for what I missed, but I can do better. People ask me, what am I going to do in retirement? Don't I miss work? I tell them my days are full, but now they're full with different things. I go for a walk, play tennis, spend time planning meals. I travel. I relax. I read. I watch a TV show. I go to plays. I spend time with my sons. I'm finding a new balance before it's too late.
"Pay attention to warning signs of problems to come"
― Rod K., 82, Los Angeles, CA; three sons, 46, 43 and 41

I grew up in the Philippines and came to the United States for college. Coming from a poor country, you don't develop the same kind of healthy habits that you do in more developed countries. There was no such thing as preventive care there. You went to the dentist when you needed a tooth pulled, not for an annual cleaning. We never went to the doctor for any kind of routine checkup.
As an adult, I worked crazy hours and commuted from Los Angeles to San Francisco every week. I was basically living alone during the week and ate fast food almost every night and not enough vegetables. I certainly wasn't exercising.
Then I went to a local health fair, and the woman who took my blood pressure said, "It's high. Maybe you should have it checked...." I thanked her, but at the time I did not give it much thought. I felt fine, had been active and kept a busy work schedule. I wish I had taken that comment more seriously.
I had a stroke when I was 56 that left the entire right side of my body paralyzed. It greatly altered the course and quality of my life. After 20-plus years of physical therapy, medication and lifestyle changes, I've regained partial sensation in some areas.
Now I focus on maintaining a healthy lifestyle. I exercise. I watch what I eat. I prepare most of my meals at home, eat oatmeal every day and lots of fruits and veggies. I never eat fast food, and I cut back on processed foods. I credit those changes for some of the improvement I've experienced since my stroke.
Somebody once told me, "If you don't have your health, you don't have much." I strongly believe that.
Check out an infographic on the 4 pillars of good health.
 "Know your limits, and don't tough it out" 
― William Robinson Jr., 77, East Orange NJ; one son, 46
I'm good about going to the doctor now, but in my early years I just toughed things out. I didn't think about how stress affected my health.
The men in my family were hard workers. I figured this is life and you're supposed to tolerate discomfort. For instance, I used to carry my keys in my back pocket. Apparently, they were pressing on a sciatic nerve in my hip. I never saw a doctor for the pain.
When I went into the Air Force, they told us, "We'll make it so you can do more than you think you can do." And so I began to stretch myself, and sometimes pushed my body further than I should.
I just want my son to keep himself in as good health as possible. But he should remember not to overdo it. Just because you can do 50 pushups the first day doesn't mean you need to do 100 on the second day.
I'm always moving. The work I do in building maintenance requires me to be as mobile as possible. I do a lot of bending. The same things that you would do at the gym are the things I do at work. But if something is wrong now, I make sure to check it out.
"Your teeth tell the world if you're a success"
― Cleo Williams, 73, Ewing, NJ; two sons, 50 and 41
My father had all his natural teeth until he died at 87. I knew that's what I wanted as well. As a kid, I was never afraid to go to the dentist, and when he told me having strong teeth was important, I took it to heart. The mouth is the gateway to the body. Tooth decay can be an early sign of another health problem.
My brothers used to call me a square. I ran track as a youngster. I didn't go out much. I never drank, I never smoked. That's the way I've lived my life. Now I tell my boys that the key to success in any young man's life is looking fit and healthy ― both in your teeth and your body.
I visit the dentist two or three times a year. At 73, I have no cavities, no broken teeth, no nothing. Healthy teeth, healthy eyes, healthy body and a healthy mind can lead to longevity. I want to stay healthy for a long time.
Learn more about the mouth-body connection.
 "Don't brush off your symptoms; keep looking for answers"
― Joel Jutkowitz, 76, New York, NY; Two sons, 64 and 50

Ten years ago, on a trip to Peru, I started vomiting and was unable to eat. But I'd spent a lot of time traveling for work to places where you're likely to get stomach ailments. It didn't immediately occur to me that I might have a serious health issue.
I thought I had parasites, so I went to a tropical medicine specialist. His tests came back negative. I then went to see my gastrointestinal doctor, who diagnosed me with esophageal cancer. Had I ignored the symptoms, I wouldn't be here because the cancer had started to advance. I was lucky to have very good doctors.
You have to pay attention to what your body is doing and don't brush it off. I live with several chronic health issues, most prominently diabetes, and also some consequences of my operation. I regularly visit the doctor to stay on top of things. 
Find out the best way to manage chronic conditions.
"Give yourself permission to rest and recharge"

― Larry Detris, 59, Alburtis, PA; one son, 34

I always knew that sleep is crucial to well-being, but my career as a firefighter didn't allow me to get enough rest. I would wake at 4 a.m. and commute 2½ hours one-way to report for duty at 7:30 a.m. for a 24-hour shift. I also attended my children's school functions and sports events, waited up until they were home safely and watched the nightly news at 11. I was lucky to get 5 hours of sleep at best.
I was constantly fatigued and over-ate in search of more energy. At my fire station, good eating habits were not the norm. Meat pizza, subs and sweets were the preferred diet. My weight jumped from 190 to 232 pounds. I was put on prescription allergy medicine, a rescue inhaler and medication for high blood pressure. Throughout my downhill spiral, I was competing in bicycle races. This absurd lifestyle continued into retirement, until it all came to a head one day.
Five years ago, I was experiencing extreme fatigue. My doctor discovered I had a vitamin D deficiency. I started supplements, went on a diet and finally got on a normal sleep schedule. Today my blood pressure, while not ideal, is in an acceptable range without meds. I weigh 175 and just completed my best few months of bicycle training in 25 years. Now I'll compete in two races, come home and mow the lawn, but still make time to relax and enjoy music under the stars with my wonderful, beautiful wife.
Find out how to get a better night's sleep.
About the author
Christina Joseph Robinson is a veteran editor and writer from New Jersey who still loves to read the old-fashioned newspaper. She's raising two fruit-and-veggie loving daughters to balance all the treats Grandma sends their way. Christina's health goal is to resume her workout routine after being sidelined by injuries.