On the dining room table in the Philadelphia home that Katie Cavuto shares with her wife Ashli and 6-year-old son Hudson sits a "gratitude jar." Whenever the mood strikes, they jot notes about what they're grateful for. At the end of the year, the family will read their notes together and remember all the good in their lives. The practice grew out of the 38-year-old dietitian, chef and busy mom's goal to choose joy every single day.
It's been a long road to this place. Four years ago Katie was diagnosed with Lyme disease, and her illness has helped refocus her ideas about wellbeing. Healthy living is more than what we eat, she says, it's also about the way we view life's challenges and our ability to bring gratitude and mindfulness to our daily experience. She shares more about her wellness philosophy on her blog, Nourish.Breathe.Thrive.
Katie integrates these principles into her private practice, where her clients include breast cancer patients and professional athletes. Along with dietary guidance, she teaches the power of positive intentions. For Katie, that means prioritizing her physical and emotional needs so that she's better able to live life as a "person who is well" despite her illness.
What does an average day look like for the former finalist on The Next Food Network Star, and how does she work toward achieving her health goals?
6:30 a.m. My mornings tend to be a bit rushed, but I try to take a couple of minutes before I get out of bed to breathe and harness my thoughts. If you're starting your day already worrying, then that negative emotion is going to power you through the day. So I start with positive affirmations and then hit the ground running with my little guy.
I still have rough days, but they happen far less than they used to. More important, I don't hold on to fear anymore. I used to beat myself up on the bad days, and that did me no good. Now I'm able to say in a loving way, This is going to pass. Everything is okay, I'm okay.
7 a.m. We're getting dressed and making breakfast. I have warm water with lemon to start my day, as it wakes up my digestion in a gentle way. My on-the-go breakfast: two slices of a hearty gluten-free bread with nut butter and sliced fruit. If I'm craving pure comfort food, I'll add a smear of grass-fed salted butter. That is my nirvana.  It's important to savor the foods we love while being mindful of nourishing our bodies. These are acts of self-love and self-respect. I also have I have a small cup of coffee, since I'm really sensitive to caffeine but I love the flavor.
8:30 a.m. After I drop Hudson at school, I either head to the office near my home in Center City or to meet a client. One of the things I like to do with my breast cancer patients is grocery shop. Then we head back to their house and cook together. Bringing joy back to our cooking and eating starts by engaging the senses. The way ingredients feel in our hands, the sound of a knife on the cutting board, the sizzle of garlic and onions hitting the oil in a hot pan. And the heavenly aromas! All this before the food even gets to our mouth.

"People give breakfast a bad rap. I look at it as a vehicle for nourishing ingredients."
10:30 a.m. I've been sipping water all morning and I may snack on some nuts if I'm hungry. I never snack simply for the sake of snacking. This is really important. I teach my clients to be intuitive about their body's needs. This helps to shift the way they think about food.
12 p.m. Even when I'm on the run, I never skip meals. I tend to eat dinner foods for lunch, because dinner foods tend to be whole foods like vegetables, whole grains and lean proteins. Whole foods are more nutrient dense than their refined and processed counterparts. My go-to lunch is rice or quinoa with a vegetable, like Brussels sprouts or green beans, and a few ounces of chicken or fish.
I'm not about deprivation at all. Setting a goal to eat less processed food feels like a punishment. It's more fun to focus on things you can add to your plate. Plus when you add more nourishing ingredients, it naturally crowds out some of the less nourishing options.
1 p.m. I'm corresponding with clients, writing for my blog and other publications. I'm also the dietitian for the Philadelphia Phillies baseball team, and a lot of my time is spent counseling and meal planning for the players. Whether I'm working with one of my breast cancer patients or a professional athlete, I use the same philosophy: We eat to nourish our body.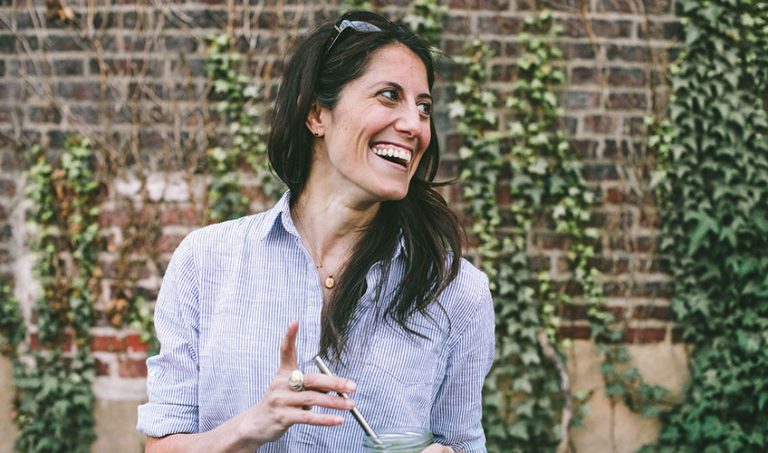 Katie Cavuto enjoys a laugh and some nourishment
6 p.m. I love using my oven because it's hands-off cooking time. I get to set a timer and then spend time with Hudson. Tonight, I will make one of our weekly staples: roasted chicken thighs with smoked paprika, oregano and roasted sweet potatoes. We eat at 6:30, then it's tub time, and then we read books together. Hudson is in bed by 8 o'clock.
8 p.m. When I put Hudson to bed, I take 30 minutes for me-time. I hang in my room and do a meditation, or move through a 30-minute yoga series. It can be as simple as breathing in child's pose to quiet my mind. This is my decompression time, when I connect with myself and circle back to the affirmations I used to start my day. I have a spot next to my bed where I have my mat, a meditation cushion, a candle, some of my favorite crystals and an antique Tibetan Buddha that I really love. It's my peace place.
There are nights when I feel like I have more anxious energy. When this happens, I'll move through a more vigorous yoga series, take a short run or shake all the energy out on Hudson's mini trampoline.
The biggest thing that I've learned from having a chronic illness is how debilitating it can be just to consider yourself "sick." It's mentally consuming. The turning point for me was to associate myself with being well ― even to "fake it till you make it." That's not to say I'm not caring for myself or respecting what my body needs. It's about choosing to be in a positive place.
8:30 p.m. This is my time with Ash, our time to catch up on the day and relax together. We'll talk or watch TV. We are in bed by around 9:30, 10 o'clock. I am so protective of my sleep that I'm conscious of the types of shows that I watch because by 8:30 at night it's all about winding down.
Katie, whose health ambition is to find joy every single day, believes a positive attitude has a place in the healing process. If she's present in the moment ― taking in those experiences with her family, patients, food ― negative feelings fade. And she's grateful for that.
About the author
Christina Joseph Robinson is a veteran editor and writer from New Jersey who still loves to read the old-fashioned newspaper. She's raising two fruit-and-veggie loving daughters to balance all the treats Grandma sends their way. Christina's health goal is to resume her workout routine after being sidelined by injuries.