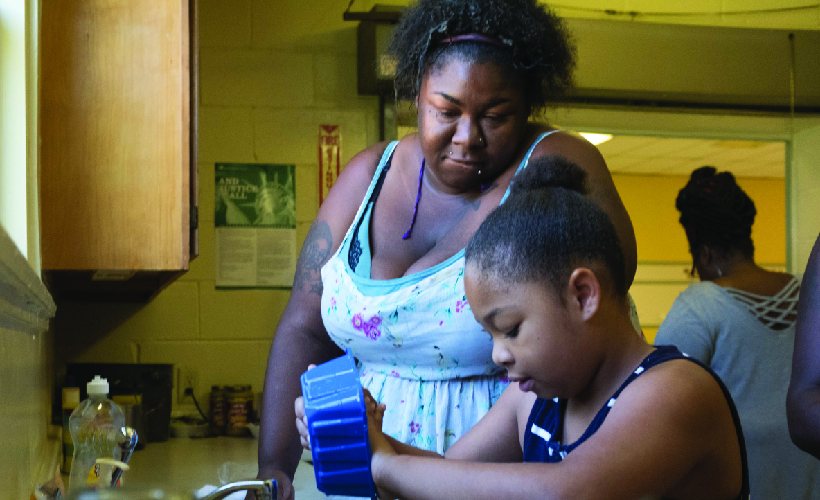 One recent summer evening, in a tiny kitchen in Asheville, N.C., Opeolu was preparing a dinner no one in her family wanted.
"Egg in a what?" her mother, Fatemah, asked suspiciously. "Egg in a bag," Opeolu responded. "I learned it in my cooking class. It's good. You'll like it." Fatemah eyed the pot of water and the carton of eggs with mild distaste.
As she shook her head and walked out of the room, Opeolu's 9-year-old daughter, Anike, sweetly asked, "Can we cook dinner after we make this?" "This is dinner," Opeolu said wearily while the two cracked open eggs, washed spinach, and chopped peppers, onions and mushrooms. Soon, the earthy, sweet smell of the vegetables filled the kitchen. Within minutes, Fatemah returned, and Opeolu's 18-year-old brother, Taiwo, materialized out of nowhere.
As people tend to do when they're together in the kitchen, the family started talking and giggling over memories. After 20 minutes, Opeolu turned off the stove and rolled the log-shaped cooked omelet out of its bag and onto a plate. Everyone dove in with plastic forks. The dinner no one wanted was gone in minutes. It not only fed the family, it also brought them closer. Wrapping her arms around her mom's waist, Anike asked when they could make it again.
Making healthy eating a reality
People coming together to enjoy a nutritious meal is exactly what the nonprofit Women's Wellbeing and Development Foundation (WWD-F) had in mind when it started a free weekly cooking class a year ago in Hillcrest, the public housing complex where Opeolu's family lives. People here struggle to put food ― any food ― on the table. It's not easy: Free offerings at pantries and churches are often stale or past their sell-by date, and options at discount grocery stores aren't much better. Many end up turning to whatever food is cheap and fast.
But WWD-F's cooking class hopes to change that. The half-dozen women who attend each week are introduced to flavorful, nutritious dishes that cost about the same as a fast-food meal. Most cook quickly and use everyday ingredients, which is essential considering the nearest grocery store is a 90-minute roundtrip bus ride away.
The class is part of a larger effort called the Community Food Education Collaborative, which is focused on helping lower-income residents in Buncombe County eat more fruits and vegetables. To help continue their work, the collaborative recently received a $53,000 Cultivating Healthy Communities (CHC) grant from the Aetna Foundation.

The cooking class at Hillcrest is already helping to making a difference. A recent survey conducted by WWD-F found that attendees now include more vegetables and fruit in their daily diet, and Opeolu is one of them. "I'm trying to teach my daughter that you can go to the store and get you a healthy meal and be OK. You can eat vegetables and fruit smoothies," she says.
"Our investment in WWD-F's work has an impact that goes beyond the individuals participating in the cooking classes," says Amy Aparicio Clark, managing director of community impact and strategy at the Aetna Foundation. "It's changing the way entire families think about nutrition and meal times. In the communities served by our CHC grants, it can be a real struggle to put healthy food on the table. WWD-F addresses this challenge by helping residents overcome practical barriers to purchasing and preparing fresh food."
Their work couldn't come at a better time.  African-American and Latino residents of Buncombe County are impacted by obesity and chronic disease at a much higher rate than whites, a 2015 community health assessment found. These statistics are in stark contrast to the rest of the county, which has a lower incidence of obesity than the rest of the nation (23% versus 31%), according to data developed by the Aetna Foundation in collaboration with U.S. News and World Report. The report, called The Healthiest Communities rankings, looked at all counties nationwide.
The unexpected benefit of cooking together
But the women are getting more than good conversation. They're also reaping the emotional and physical health benefits that come with being part of a community. Studies have found that connecting with a group strengthens the immune system, lowers blood pressure and stress, decreases the risk of heart disease and even improves the odds of living longer.
Officially, the WWD-F's cooking class is about healthy eating. But as the weeks go on, it becomes about something more: community. Friendships form while chopping vegetables, washing fruit and setting the table. Banter comes easily, and jokes and gossiping are always on the menu.
What's more, the women have the benefit of a built-in support network. This summer, for example, one of the participants was diagnosed with cancer and was about to undergo chemotherapy. The rest of the women devoted an entire cooking class to preparing meals for her and her family, so they wouldn't go without.

The women's bond doesn't surprise Nicole Hinebaugh, program director of Bountiful Cities who helped start the cooking classes at Hillcrest. "Systems change starts in the kitchen," she explains. "Because what happens when you eat and prepare food together is you begin to develop the relationships that build community. Then it's through community that we actually support each other and help each other to thrive."

Opeolu witnessed firsthand how food brings people together. Growing up, her grandmother and aunts would spend hours in the kitchen making meals and swapping stories. Twenty years later, the memory of their laughter still brings a smile to her face.  Today, she's rediscovered that joy through her cooking class and she's thrilled to share that with her family. "The cooking class means a sense of community, a sense of empowerment," she says. "There's something about being in the kitchen, you know? It's the heart of everything."

Your community shapes how long and how well you live. The Aetna Foundation recently teamed up with U.S. News & World Report to rank counties across the U.S. on factors like education, nutrition, public safety and more. Out of nearly 3,000 counties assessed, we identified the 500 healthiest communities in America. Buncombe County, NC, has an overall health score that's 11 points higher than the national average, but even the healthiest communities have room for improvement. In this series, we take a look at counties on the list where residents have identified a health challenge and are working to solve it with the help of a grant from the Aetna Foundation. Here, we profile a cooking class in Hillcrest, a public housing complex in Asheville. It not only teaches residents about healthy eating, it's also helping to build a strong community.
About the author
Bonnie Vengrow is a journalist based in NYC who has written for Parents, Prevention, Rodale's Organic Life, Good Housekeeping and others. She's never met a hiking trail she doesn't like and is currently working on perfecting her headstand in yoga class.