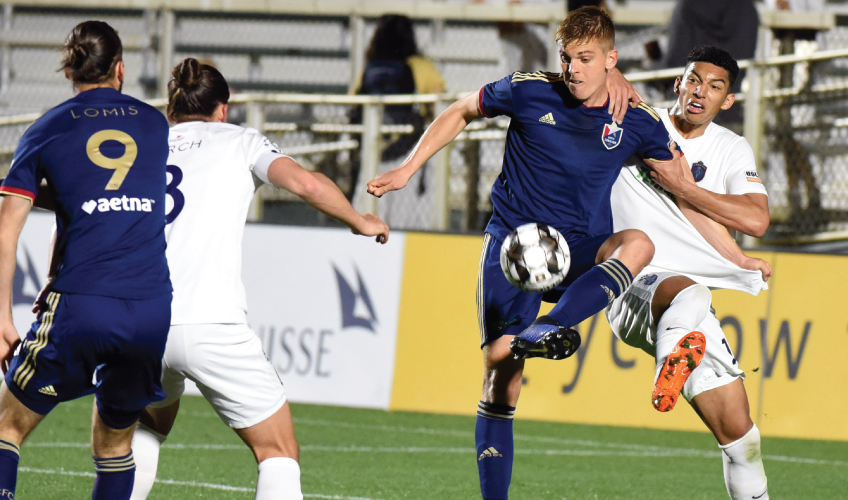 As tough as his recovery was, Sam Brotherton says he's stronger for it.
Three times a week for several months, I went to a local cycling class. It was part of my new routine to be fit and fabulous in my 40s, and I was feeling great. Then one night, someone sideswiped my car, leaving me with a concussion and months of recovery. During that time, I had to put my daily exercise — which always helped me feel refreshed — on hold.
As my recovery wore on, my spirits started to dwindle. But in the back of my mind, I knew I needed to stay positive. Keeping an upbeat attitude would give me the energy and drive to focus on getting healthy and back to the gym.
In fact, it's just as important to care for your mental health as it is your physical health when healing from an injury. That's because your mood can impact your recovery. Experts say even temporary changes to your mobility and independence can create a sense of helplessness and vulnerability, and that sense of loss can put you at risk for depression and anxiety.    
"The most important thing while you're recovering is keeping a positive mindset," points out Ricky Moore, an Aetna health coach and personal trainer. "It helps to think of this time as just a small bump in the road. Don't look back to what happened in the past or look too far in the future. Just focus on the here and now: how you're feeling, how you're responding, keeping that mind-body connection."
Perhaps no one understands that advice better than an athlete. As the following two professional soccer players show, a full recovery involves caring for the mind, body and spirit. Below are the stories of how they overcame potentially career-ending injuries and what they hope others can learn from their journeys.
Minutes into the first game of the 2017 season, I tore my hamstring. I was supposed to be out for three weeks, but I came back too early and got hurt again. Over the next two years, I was injured six more times. I never needed surgery, just rehab and strengthening. But I was frustrated, because I had been playing great before this.
The number-one thing that helped me during my recovery was my faith. I tried to stay focused on what I could control, like my daily exercises, and let a lot of that other stuff, like predicting when I'd get better, work itself out.
I also relied on support from family and friends. I remembered advice my dad gave me in college, when I wasn't getting along with my coach at the time. He said that practice was just two hours out of my day, and to use the other 22 hours enjoying my life. That helped me keep things in perspective.
My friends helped me take a step back and find things in the moment to enjoy. They kept me laughing and joking, but they were also honest with me. There were times where I'd feel frustrated and sometimes act immaturely or selfishly, and that's not good. Some of my teammates would say, "I know you're mad, but you can't let these injuries beat you down. Let's work through it and focus on this. You've got this."
Over the past two years, I've become much more self-aware. I make a point to slow down and take care of myself by resting and listening to my body. I'm also trying to take time to enjoy the moment more, without distractions, and am starting to unplug once a week.
Now that the new season is starting up, I feel fantastic. I'm more in tune with my body, and I'm not overextending myself. My priority is to be the best soccer player I can be.
"When you're injured, it's a tough feeling. But I've come out the other end stronger for it."
- Sam Brotherton, defender, North Carolina Football Club
The 2018 season was off to a good start. I had a great preseason with my team at the time, Sunderland, in England, and was starting the first game of the season. But a half-hour into the game, I hyper-extended my knee. An MRI scan revealed that I'd strained my PCL (posterior cruciate ligament) in my left knee. There was no surgery involved, but I needed to spend four months doing physical therapy and conditioning work so that I could gradually come back to playing full time.
Being sidelined couldn't have come at a worse time. I was in my second season with the team, and I had a lot to prove. To make matters worse, my family was on the other side of the world, in New Zealand.
Doing yoga with my team helped with the rehab, and it also helped me take control of any negative thoughts. A couple of my teammates were also experiencing injuries at the same time, so we pulled each other through the struggles and setbacks and helped each other stay positive. It's important to surround yourself with good people who are going to help you keep perspective, who will remind you that being injured isn't the end of world and you can come back from it.
It also helped to stay active however I could and keep challenging my body. For me, that meant spending time swimming, which is a lower-resistance way to do cardio and also train my upper body.
Being injured has changed my perspective. I came to appreciate how lucky I was to be playing a professional sport and get paid to do what I love. It made me treasure every day and keep the bigger picture in mind. At the time of my injury, a four-month recovery seemed like an eternity. But in the grand scheme of things, it wasn't. I realize that you've got to do everything you can and be patient with the recovery process so you come back stronger.
Now that I'm in North Carolina, I'm playing my best game ever. My recovery was mentally and physically difficult, but I think I've come out the other end stronger for it.
Tips for recovering from injury
Injuries tested Sam and Elizabeth both physically and emotionally, but they found strategies that helped them emerge stronger on every level. And their tactics aren't just for professional athletes. Moore has several practical tips that we can all apply to the recovery process:
Develop a care plan with your health care professional, which can include treatment options, goals for recovery, timing of rehabilitation and a support network.
Stay active with alternate activities. For instance, you might try a stationary bike if you hurt your shoulder or lift weights if there's a problem with your knee.
Practice self-care, whether that's getting a massage or getting more rest. 
Carve out a few minutes each day to meditate.
Make a list of things you admire about yourself to boost your confidence, such as "I'm proud of who I am," or "I am valuable."
Stay connected with family and friends, and don't be afraid to share your feelings with them.
Recovery can be challenging, Moore says, "but if you map out a plan and keep a positive mindset, you can get there."