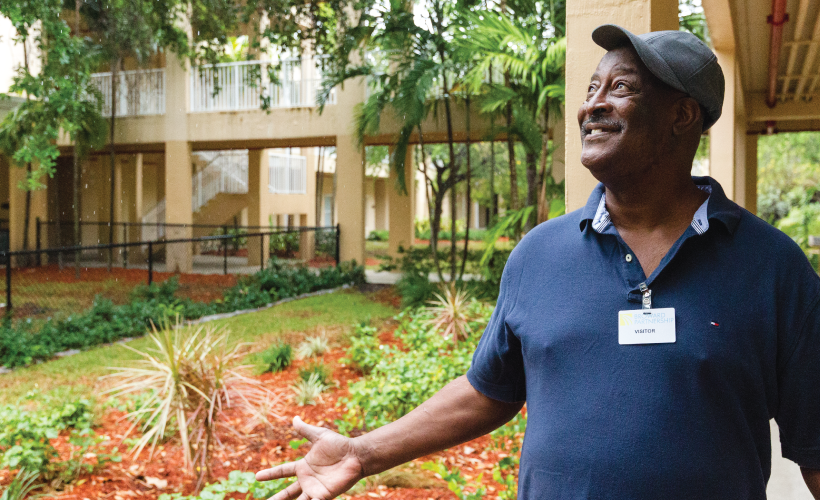 Last year, Joseph was living at Broward Partnership. Today, he's living with family and saving for his own home.
By all accounts, Joseph P. felt his life was secure. After all, he had lived in the same Ft. Lauderdale, Fla., apartment for the past decade. But his good fortune changed abruptly in 2017, when developers bought his apartment building and gave him one month to find a new place to live. A tall order, considering the dwindling affordable housing market in the area.

With the clock running, he tried to find enough in his already-tight budget to cover the required first month's rent and security deposit on a new apartment. But he was unsuccessful, and by month's end, the 63-year-old was sleeping on the streets.
"I used to drive by the homeless people in town and wonder, 'Could that be me one day?'" he says. Indeed, Joseph's sudden U-turn into homelessness took him by surprise. He was plunged into a new reality that involved trying to sleep on noisy, hard streets; constantly watching his back; and moving from place to place to avoid trouble. "It was scary. It was exhausting. It was stressful – very stressful," he remembers. "You have to be a strong person if you're really going to make it, because you run into all types of people out there: drug addicts, prostitutes, people down on their luck."
Pausing for a moment, he glanced down at his folded hands. He seemed to choose his next words carefully. "What I can say to you is, what would you do if it happened to you one day? Would you be able to make it?"
Addressing a need
Sadly, Joseph's situation is hardly unique. On any single night last year, roughly 553,000 people experienced homelessness across our country. Having a job doesn't guarantee a home, either. According to the National Low Income Housing Coalition, minimum wage workers in virtually every state are unable to afford a modest two-bedroom apartment.
Skyrocketing housing costs are particularly troubling in Ft. Lauderdale and surrounding Broward County. This sun-kissed spot may be the destination of choice for spring breakers and wealthy vacationers, but paradise doesn't come cheap, especially for those who live here. A 2018 study from Harvard found that Miami-Ft. Lauderdale-West Palm Beach is the most cost-burdened area in the entire country, meaning residents spend more than 30% of their income on housing. This leaves little for basics like food, transportation and medical care, and virtually nothing for emergencies, like the one that blindsided Joseph. In fact, local officials say a lack of affordable housing, along with a loss of employment, are the biggest reasons why 2,500 people in the county are homeless.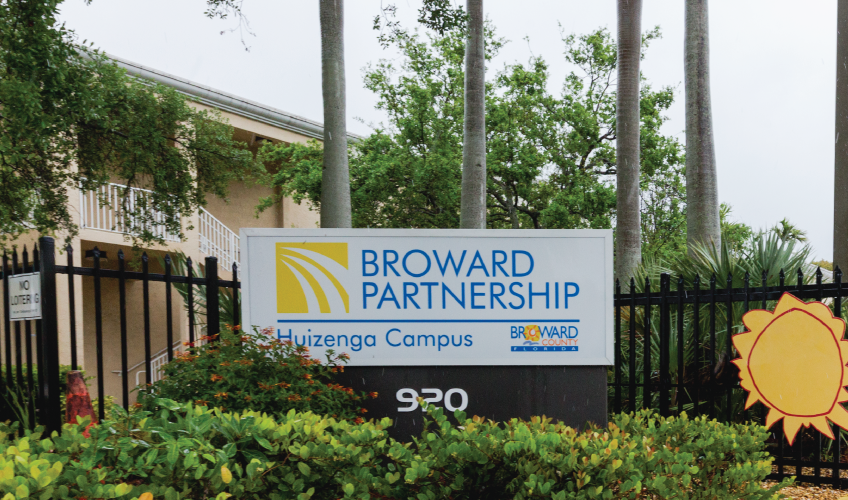 Broward Partnership for the Homeless supports clients even after they've secured housing. A grant from Aetna's Voices of Health program is helping to fuel those efforts
But there is hope, and for many, it starts at the Broward Partnership for the Homeless. Over the past 20 years, this 230-bed homeless assistance center (HAC) has helped over 25,000 men, women and children  – including joseph – find long-term stability and independence. The facility, one of three in the county, is poised to help even more people. It recently assumed control of a nearby 268-bed HAC and has plans to build a seven-story affordable housing facility in the adjacent parking lot.
"We're a housing-first agency," explains Ryon Coote, chief development officer. "Our goal is that you maintain housing. That's a big part of it. We don't want to get you housed and then six months later you lose your apartment. It's counterproductive and costs society a lot of money."
Inspiring confidence
Of course, securing long-term housing involves more than finding a home and signing a lease. There's often foundational work needed to address whatever led to the homelessness in the first place. And that's where Broward Partnership's programs and services, and deep network of partnerships, prove especially valuable.
A hard-working team of case managers and housing navigators helps connect clients with job training and resources, financial literacy classes, free clothes and haircuts for interviews, and landlords who are willing to rent them a home. Broward Partnership will even cover the security deposit and the first two months of rent and provide new-home supplies like dishes, pots and towels. This is in addition to giving people a safe place to sleep, shower, eat and do laundry in the meantime.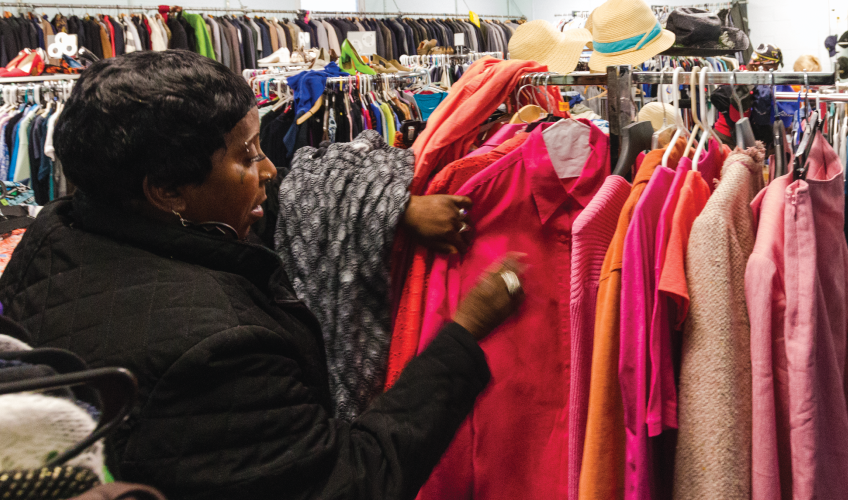 Before it even opens, there's usually a line outside the clothing room. "People are trying to get dressed before getting on the bus to go to their job interview," one volunteer explains.
But Broward Partnership's crown jewel, says Coote, is the on-site health care unit. It's here where clients can get long-overdue physicals, help with managing their chronic conditions, referrals to urgent care and specialists, and individualized medical and treatment programs. They can access a team of licensed therapists and a psychiatrist for help with addiction, problem solving, and individual and group counseling.
Clients are also provided with free dental care, including deep cleanings, fillings, extractions, X-rays and screenings for oral cancer. For the 400 or so people who take advantage of the program each year, this is the opportunity to get the dental care they couldn't otherwise afford. Improving poor oral hygiene can help prevent other health problems, including heart disease and stroke. But it's also a serious confidence booster that could make all the difference when someone is applying for a job or an apartment. "Our dental program builds up a person's self-esteem," Coote says. "It's a lot more than just dental work. You're giving someone back their smile, and smiles are important. It's one of those little things that adds to the big picture."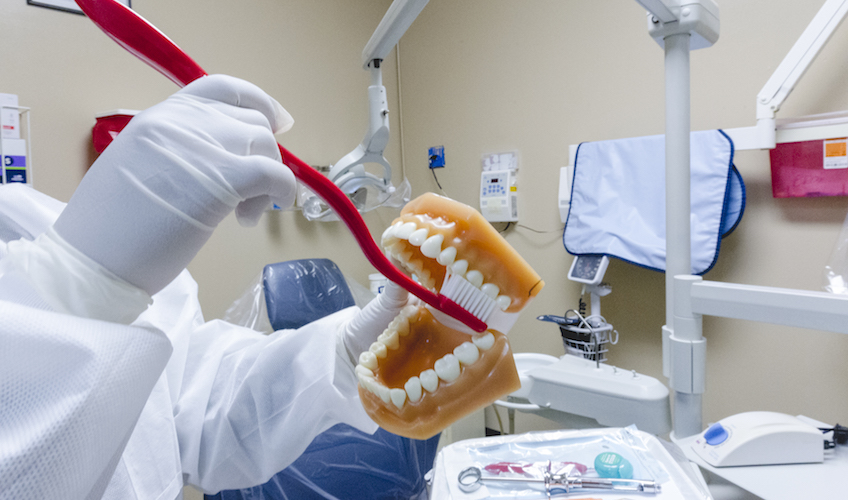 Teaching clients how to brush and care for their teeth is part of Broward Partnership's dental program. 
Certainly, the big picture is looking bright for many of Broward Partnership's clients. According to internal data, after one year, 49% of clients who are deemed employable remain employed; 94% of individuals in long-term affordable housing are still housed; and 77% of families remain housed.
Helping to sustain that success is a grant from Aetna's Voices of Health program, an annual competition that shines a light on local nonprofits that are working to improve the health of their communities. In 2018, Voices of Health distributed more than $290,000 in grants to 63 organizations in seven communities nationwide. This year, the program is expanding to 20 communities.
"Our goal is to expand awareness of the essential services that all of our Voices of Health nonprofit honorees, like the Broward Partnership, are offering," says Steve Ducòs, the program's director. "By empowering them to tell their stories, we aim to increase community's access to these services and make a meaningful impact on the social determinants of health that affect them."

"The money we won fed people, clothed people, got people toiletries and case management," Coote says. "When you give us a dollar, 87 cents goes toward the mission. When we get a little butter, we're going to make sure the whole toast gets something."
But perhaps just as valuable was the marketing and training support Broward Partnership received from Voices of Health. It used those resources to teach the community that homelessness affects people from all walks of life. "The video we made for it educated our community about the face of homelessness and also helped some of our newer board members really understand the people we care for," Coote says.
Promoting independence
The impeccable, tree-lined campus of Broward Partnership feels a lot like a small college. There are three barracks-style dorms that house women, men and families, plus a playground for children. There's a large, airy cafeteria; an indoor gym; laundry facilities; a computer lab; a place to pick out clothes; and a book-filled library. There's even a gazebo where clients gather to catch a late-afternoon breeze or enjoy a snack.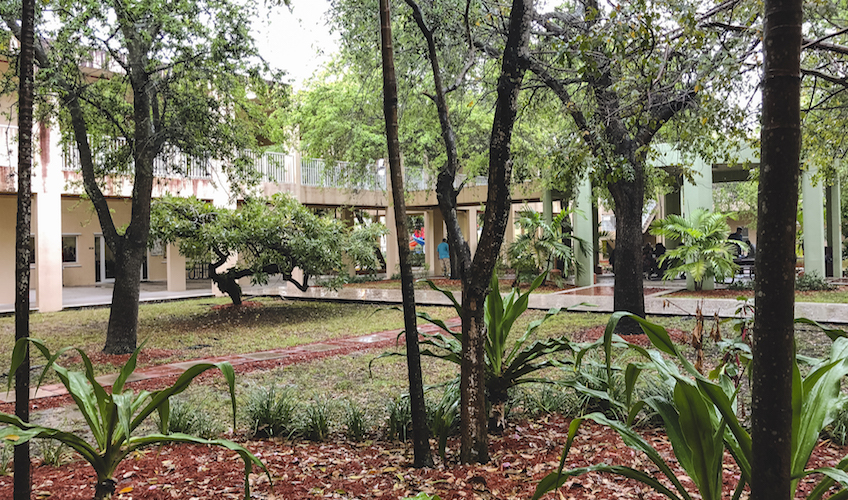 Broward Partnership has the natural beauty of a park. "I've found a lot of comfort here," one client says. "This is not a place to be alone."
And much like a small college, the vibe here is decidedly friendly, respectful and encouraging. Clients and staff greet each other with smiles and pleasantries. Kindness is par for the course. One client, who volunteers in the clothing room, remembers when a co-worker spotted an expensive designer shirt in the donation pile. Rather than keep it for himself, he handed it to her so she could wear it to an upcoming job interview.
"You feel like you're going to get to your 'next place' in here," she says. "It's not like I'm just waiting for anything to happen. You make goals with your case manager. Like, I have this volunteering job, and I have another job coming up. When my income starts coming in, I give my case manager a portion of my money, so at the end of the program, they'll match what I've saved. So you see? They're empowering you to help yourself, so you get out of the situation and don't have to come back here."
Count Joseph P. among the ones who don't plan on returning. Though he appreciated the safety, care and support he found at Broward Partnership, his eyes are firmly fixed on what lies ahead. Right now, he's living with his sister and actively saving for a place of his own. But ultimately, his dream is to own a small farm back home in Georgia, with pigs, a few crops and a tractor. "Coming back here isn't in my future," he says with a grin. "When I left, I said, 'I don't want to come back. I want to go up.'"
About the author
Bonnie Vengrow is a journalist based in NYC who has written for Parents, Prevention, Rodale's Organic Life, Good Housekeeping and others. She's never met a hiking trail she doesn't like and is currently working on perfecting her headstand in yoga class.