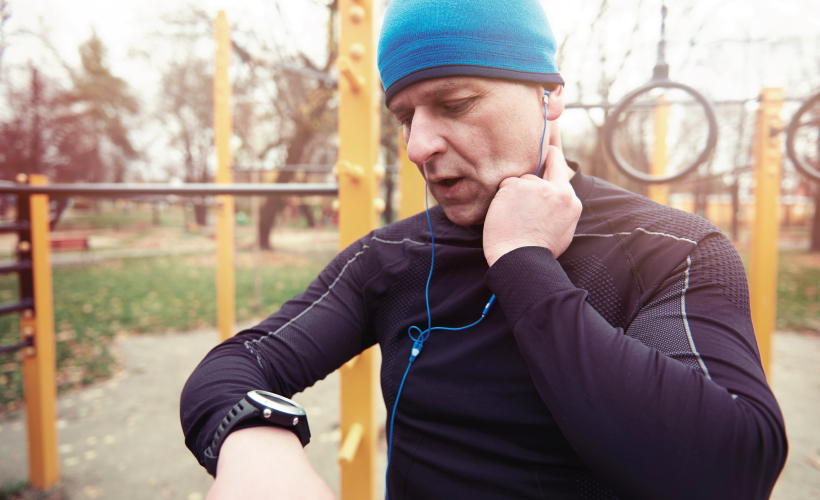 After Rebecca Valentine, 47, found out she had high blood pressure, she started monitoring her pressure at home. She invested in a high-tech blood pressure cuff that automatically sends readings to her smartphone. Rebecca can easily share that data with her doctor, who determines whether her medication needs adjustment. "The monitor keeps a record for me and even lets me know how I'm doing," Rebecca says. "A green light is good. Orange means keep an eye on it; red lets me know to take more medicine or call the doctor."
If you're trying to manage a cardiac condition or improve your cardiovascular fitness, gadgets and apps can make tracking your health information simple ― maybe even fun. "Technology gives you greater access to your health data, which gives you and your doctor insight into your heart health," says Jay Rajda, MD, Aetna's chief clinical innovation and transformation officer. "Some tools can actually recommend actions you can take to improve your health."
Read on to find out how technology can help you with three common heart-health goals.
Goal 1: Strengthen your cardiovascular fitness.
Tech tool: Heart rate monitor.
Your heartbeat says a lot about you. When you're at rest, a slower heartbeat ― also known as your heart rate or pulse ― indicates better health. When you're exercising, a faster heart rate shows how much effort you're putting into your workout. Heart rate monitors can track your heartbeat when you're resting and active. Your resting heart rate likely falls between 60 and 100 beats per minute, depending on your age and fitness. Your doctor can tell you what your specific resting and active heart rate numbers should be.
Heart rate monitors range from low-priced, no-frills wristbands to smartwatches that include many other features. For example, the Apple Watch Series 4 ($399) takes heart rate monitoring to another level by generating an electrocardiogram (ECG). An ECG readout gives doctors a more detailed record of your heart rhythm that can reveal potential health risks. If you'd rather test the waters with a budget option, Wired magazine recommends the Mi Band 3 ($37).
Karyn Stephenson, of Glen Rock, New Jersey, wears her wristband monitor 24/7. After she started exercising regularly this past summer, she was pleased to see her resting heart rate number go down. "It motivated me to keep exercising," she says. "The monitor also measures my steps, flights of stairs, and how many active minutes I have for the day."
"Some tech tools actually recommend actions you can take to improve your health," says Jay Rajda, MD, Aetna's expert on health innovations.
Goal 2: Lower your blood pressure.
Tech tool: Blood pressure cuff.
Many of us get our blood pressure tested once a year when we visit the doctor for a physical. But for patients with high blood pressure, more frequent measurement can really pay off. Studies find that monitoring at home appears to lower blood pressure more than relying on doctor visits alone. Researchers aren't sure why, but speculate that self-monitoring gives you a better understanding of how daily habits influence blood pressure.
Just a few years ago, home monitoring meant jotting down readings in a notebook. But many of today's devices store your readings for you. Some even transmit data to your smartphone through Bluetooth technology, and allow you to share that data with your doctor. If you're willing to do without the sharing feature, you can find high-quality monitors like the Panasonic EW3109W for under $50. Rebecca Valentine paid more for the Omron 10, which features Bluetooth and costs about $60. Having her history of blood pressure readings stored on her phone, Rebecca said, "is very helpful for doctor's visits."
Although wristband-style blood pressure monitors are available, the American Heart Association recommends arm cuffs for better accuracy.
Confused about blood pressure? Learn all you need to know right here. 
Goal 3: Improve your general heart health.
Tech tool: Heart health apps.
Not sure about your goal? Or want to tackle multiple goals at once? Let a heart-health app be your guide. Some wearable devices come with their own apps, but even apps not connected to devices can help you log and track important information, such as weight, cholesterol levels and medication. Many apps also provide tips and education on diet, exercise and healthy lifestyle changes. The AARP recommends the free Healthy Heart 2 app for heart disease patients. It can track blood pressure, heart rate, cholesterol, blood glucose, medication and more. The American Heart Association has its own free app, My Cardiac Coach, to help heart attack survivors thrive in recovery. That app offers step by step guidance on developing healthy habits and access to a supportive community of fellow survivors.
As powerful as tech tools are, your best resource for heart-health advice is a doctor. Yes, some information that wearables and apps provide is easy enough to understand. But other data — like ECG readings — are best interpreted by a professional. With technology and your doctor on your side, you can look forward to a heart-healthy future.
About the author
Alice Gomstyn is a veteran parenting blogger and business reporter. She is an admitted sugar addict but plans to cut back on the sweet stuff and load up on veggies like never before. Bring on the broccoli!