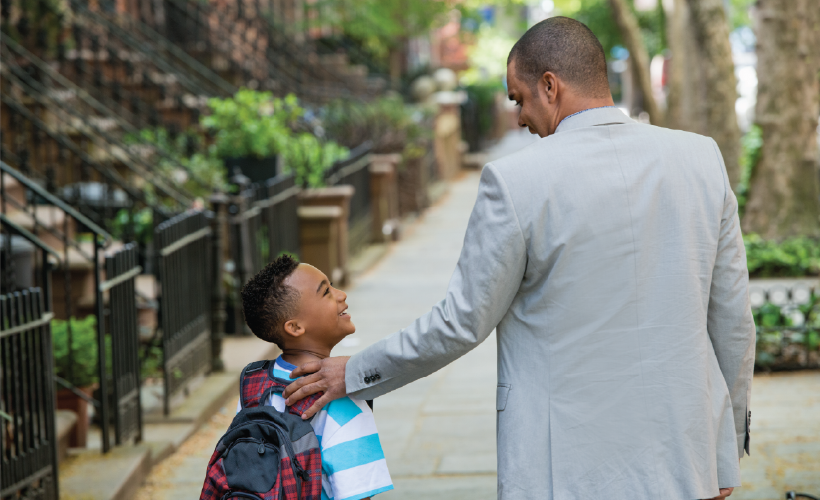 With a brand-new school year just around the corner, chances are you've already stocked up on school supplies for your children. But there's more you can do to help them prepare. Establishing a few healthy habits now can help ease their transition back to the classroom. Try these tips to make this the best school year yet.
Start practicing mindfulness.
You may be ready for your kids to go back to school, but don't be surprised if they're not as eager. "Whether it's a young child starting school and separating from parents for the first time, or an older child entering a new grade, the start of a new school year can often be an anxiety-provoking time for children and adolescents," explains Christopher James, M.D., a child psychiatrist with Aetna's Behavioral Health team.  
Mindfulness, or the practice of paying attention to what's going on inside and around you, may help. Exercises often involve soft breathing, slow movements and taking notice of how you feel. When done regularly over time, mindfulness can help your children regulate emotions and respond to the world in healthier ways. Plus, research shows that it could also lead to better behavior and higher grades. 
A glitter jar is one simple way to introduce kids to the concept of mindfulness. (Learn how to make one here.) When they shake the jar, the glitter inside swirls around, representing the busy thoughts and feelings they may be having. Encourage them to focus on their breathing as they watch the glitter – and their emotions – slowly settle.
Try these other fun mindfulness games for kids
Make time for play and relaxing.
When it comes to boosting your kids' physical and mental health, don't discount the importance of exercise and down time. Kids six years and older should have at least an hour of physical activity every day. And mentally unwinding, even for ten minutes a day, can help with stress management. Relaxation, exercise, nutrition and sleep, also known as the "four pillars of health," work together to keep your mind and body healthy. Ignoring one could impact your ability to sustain the others. "The more we balance the four pillars within our lives, the better our chances of feeling good in the long run," explains Dr. Gabriela Cora, a board-certified psychiatrist and a medical director for Aetna Behavioral Health.

Find out how to work each pillar into their daily routine
Enjoy healthy meals together.
Need another reason to gather around the dinner table? Family meals have been shown to boost kids' language skills, lower their stress, and even improve the chances they eat more fruits and vegetables. What's more, research suggests that consuming healthy food can positively impact our mood, as it helps with the production of "feel-good" neurotransmitters, like dopamine and serotonin. On your next grocery store run, stock up on nutritious foods, like leafy greens, beans, whole grains, fruit and eggs, and aim to serve a mix at meal time. If you have picky eaters, consider one-pot meals, like stews, casseroles and omelettes. Besides cooking up quickly, these dishes are an easy way to incorporate multiple food groups.
Learn which foods can help boost your mood 
Get back into the habit of twice-daily tooth brushing (without the tears).
If your kids took a break this summer from brushing their teeth twice a day, now's the time to resume the habit. Besides an increased risk of cavities, poor oral health can also lead to missed school days and lower grades, according to a 2012 study conducted by the University of Southern California's Ostrow School of Dentistry. To keep their teeth and gums healthy, experts recommend kids brush for two minutes twice a day and floss once a day. You can help make the task more enjoyable by turning it into a game, like encouraging your kids to brush away the "sugar bugs" or playing their favorite two-minute song to make the time go by faster.
Check out more fun ways to get your kids to brush their teeth
Encourage a good night's sleep.
Getting a good night's sleep is not only important for a child's growth and development, it's also key to their health and wellbeing. How much is enough? The American Academy of Pediatrics recommends 9-12 hours of shut-eye for children aged 6-12 years, and 8-10 hours for kids aged 13-18 years. To help them ease back into the habit of going to bed early, try keeping a consistent schedule, creating a relaxing nighttime routine and powering down all electronics at least an hour before bed time.
Read more tips for a restful night's sleep
Saying goodbye to summer and going back to school can be difficult for kids. But by incorporating a few small changes to care for their mental and physical health, you can help make the transition a smooth one.
About the author
Pooja Dharan lives in New York City and loves trying new restaurants, traveling, practicing yoga and watching films. Her health ambition is to set aside more time for meditation and get back into competitive swimming.