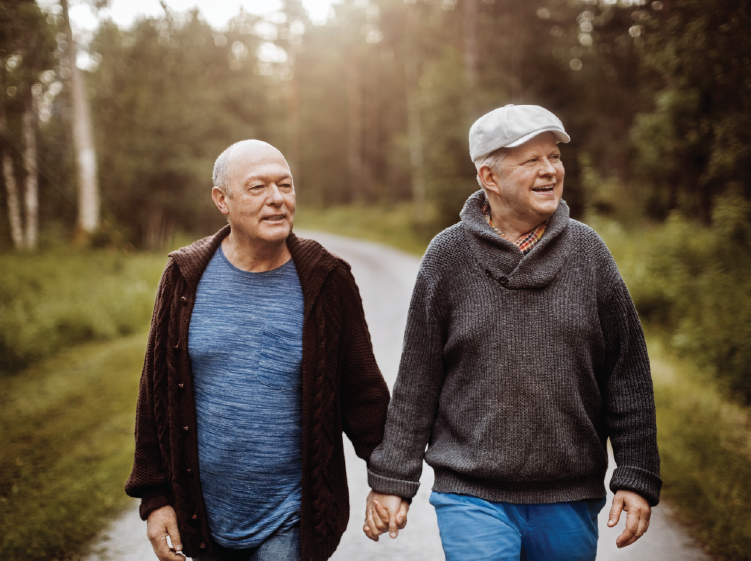 Want to live your healthiest life? Regular check-ups with your physician are a great place to start. (Here are some tips on how to make the most of your doctor's visits). But there is so much more that you can do to care for your body and mind. A health survey conducted by Aetna found that people want new, easier ways to manage their health goals. The number-one thing people wish they had more time to devote to were mental and physical well-being activities: 60% of respondents say that if given an extra hour in the day, they would dedicate that time to activities that can support both body and mind.
To help you do just that, we've identified five surprising services and programs that can help with your health goals, from reducing stress to losing weight to managing a chronic condition. Because sometimes you need more than an annual checkup to ensure that you're making the best decisions for your health and your life.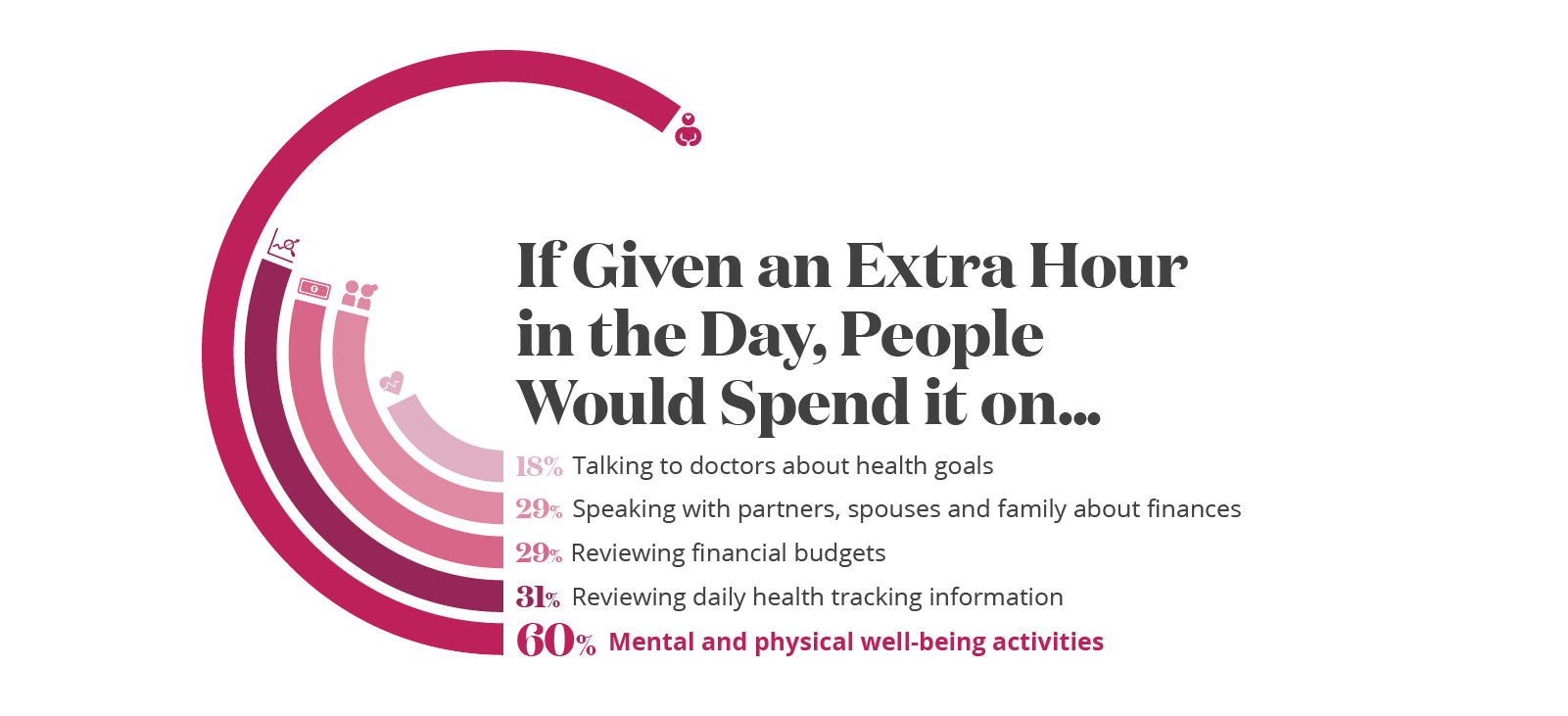 A recent health survey conducted by Aetna found that most people would spend an extra hour a day on activities that promote mental and physical health.
Wellness coaching
When you're working toward a health goal, it helps to have someone with you every step of the way. A health or wellness coach can act as that accountability partner. Through regular check-ins, your coach can work with you to develop strategies for healthy living and keep you motivated along the way.
Wellness coaches can help with everything quitting smoking and losing weight to managing stress and eating healthier foods. Registered dietitian and Aetna health coach Katherine Smith helped member Cory Metzler lose nearly 100 pounds, in part by encouraging her to adopt better eating habits and by providing lots of moral support. "We set up regular monthly sessions, and her consistency and kindness set my compass," Cory says. "Katherine would not let me fall even when I felt like I couldn't go on." Learn more about Cory's story.
Resources such as Wellcoaches, the first coaching school for health and wellness professionals, can offer coaches in your area. Some insurance plans also include sessions with a wellness coach. Aetna members may have access to the Healthy Lifestyle Coaching program; check your plan to see if it's included in your benefits.
Therapy online or by phone
Mental health was a top concern among the people who participated in Aetna's health survey. And yet, those with mental health-related goals tended to make only a little progress toward achieving them, compared to people with physical health-related goals.
That's because there's often a "built-in barrier" around seeking help, explains Dr. William Gillis, senior director of Aetna Behavioral Health. Some people may feel a stigma around seeking help from a mental health professional, while others find the effort of getting out the house and going to a professional's office too challenging.
Certain conditions, such as severe depression, bipolar disorder, eating disorders and post-traumatic stress disorder, are best served by in-person therapy. But if you have mild to moderate depression, anxiety, stress or are dealing with a difficult life event, such as the death of a loved one, then you may be a good candidate for televideo, or speaking with a licensed therapist via phone or online video conferencing, Dr. Gillis says.
One of the biggest perks of televideo is its convenience. "This type of service allows people to gain access to treatment for emotional, behavioral health issues in the comfort, privacy and safety of their own home," he says. Your insurance may provide telemedicine as part of your benefits; check your plan to see if you're eligible. Many Aetna members, for example, can access help from counselors remotely through Behavioral Health Televideo services.
Financial guidance
Think your finances and your well-being have nothing in common? Think again. Money is consistently the number-one source of stress among adults in the U.S. And financial stress has been linked to a variety of health issues, such as migraines, cardiovascular disease, insomnia and depression. In fact, in Aetna's Health Ambitions Survey, almost 60% of people say that they wish they had more time to consider their finances, whether that means speaking to family about money or reviewing budgets.
If taking charge of your finances sounds like a daunting task, consider enlisting the help of a reputable financial professional. They can work with you to set short- and long-term goals and provide guidance on proper money management skills. Check with your local consumer protection agency or organizations like the Certified Financial Planner Board of Standards for recommendations.
Of course, learning how to handle your money can pose its own challenge: How do you afford the advice of a professional when you're short on cash in the first place? Community groups and banks often offer free or low-cost financial education programs. Several organizations, including the National Endowment for Financial Education and the Consumer Financial Protection Bureau, also provide free online education. If you're an Aetna member with employee assistance program (EAP) benefits through Resources For Living, you are eligible for a consultation by calling the number provided by your employer.
Mindfulness practice
In a fast-paced world, improving your health often means slowing down. Enter mindfulness, the practice of being present in the moment and observing what's happening within and around you without judgment. Studies show mindfulness is a powerful tool in helping people regulate emotions and reduce stress. "Learning mindfulness skills helps you manage stress and be more aware of what you're experiencing," Dr. Gillis explains. That awareness, he says, can help people make better, healthier choices.
There are many different ways to practice mindfulness. Breathing exercises, guided imagery and meditation are particularly effective. There are also online apps that lead you through mindfulness exercises, including ones designed for children.
Healthy home and office
Where you live, work and play can have a big impact on your well-being. Making your home safer is especially important for the elderly or someone with a disability, says Brooke Wilson, the head of Worklife Services for Aetna Resources For Living program. Assess what safety measures and modifications should be made to your home to reduce risk and improve comfort. That can include ensuring stairs are free of debris and furniture, installing grab bars in a shower, and confirming that furnaces and air conditioners are working properly. Resources For Living offers Aetna members specialists who can help evaluate your home's safety.
For workplaces, an ergonomic consultant can recommend steps employers can take — from changing desk chairs to providing larger computer screens — to maintain comfortable work environments. Doing so can help boost productivity, help with muscle fatigue and prevent  such issues as carpal tunnel syndrome, muscle strain and tendinitis.
Whether you're working with a coach to lose weight or learning how to master your finances, wellness programs and services can help you take charge of your well-being. After all, most of our health "is not determined by genetics or clinical care," Wilson says. "It's largely about our individual behavior. That's where wellness and well-being programs and services really come into play. They contribute to our ability to get well and stay well."
About the author
Alice Gomstyn is a veteran parenting blogger and business reporter. She is an admitted sugar addict but plans to cut back on the sweet stuff and load up on veggies like never before. Bring on the broccoli!