HARTFORD, Conn., April 30, 2008 — Many banks send their customers electronic notices when their checking accounts are low. Airlines send passengers flight updates through email. Now Aetna (NYSE: AET) is providing physicians with similar electronic services about patients' health care, such as alerts warning physicians about potential drug-to-drug or drug-to-disease interactions, that potentially can help save lives.

Aetna is the first health plan to provide physicians evidence-based Care Considerations electronically. Care Considerations will now be sent through Aetna's secure provider website via NaviNet, the multi-sponsor health care communication platform from NaviMedix. Last year, more than 1.6 million Care Considerations were sent by phone, fax or mail to physicians who provided care for Aetna members. Care Considerations alert physicians to opportunities for improved care when care appears to have deviated from evidence-based medical best-practice standards. And this summer, Aetna members will also be able to grant their physicians permission to view electronic summaries of their Aetna Personal Health Records (PHRs) online through NaviNet.

"Providing clinical information through Care Considerations and PHRs can help improve health outcomes. Physicians have more complete, up-to-date profiles of patients that help them better coordinate care and prevent dangerous drug interactions or even death," said Troyen Brennan, M.D., Aetna's chief medical officer. "Physicians make the best decisions they can based on available information. They often must rely on patients to share information about prescriptions and medical histories that may not be complete or accurate. Identifying and following the latest evidence-based standards of care is a known challenge in health care."

Supporting evidence-based guidelines of care
According to RAND, reasonable evidence-based guidelines for care are followed less than 50 percent of the time. At the same time, Americans spend an estimated $70 billion per year on incorrectly prescribed drugs, and only 5 percent of Americans with heart failure receive the most appropriate therapy, resulting in an estimated 100,000 more deaths than would otherwise have occurred.1 

Care Considerations are derived though the MedQuery® program, developed by ActiveHealth Management, an independent subsidiary of Aetna. MedQuery analyzes Aetna's data, including claims history, current medical, lab and pharmacy claims, and patient demographics. Data are mined on a weekly basis and compared against thousands of evidence-based care guidelines that have been adopted within the medical community as the standard of care. The comparison identifies potential omissions in care (meaning that certain accepted treatment regimens are absent) or co-missions in care (meaning, for example, drug-to-drug or drug-to-disease interactions).
Aetna is now providing physicians clinical information through electronic Care Considerations using Aetna's secure provider website via NaviNet.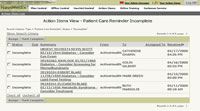 Aetna is now providing physicians clinical information through electronic Care Considerations using Aetna's secure provider website via NaviNet.

Delivering efficient, perceptible alerts and easy-to-use feedback
Now when MedQuery identifies a Care Consideration for an Aetna member, the treating physician will receive an electronic notice via NaviNet as an Action Item Alert or as a pop-up screen during eligibility verification. Treating physicians may also receive a phone call, fax or letter as well depending on the urgency of the Care Consideration. But, electronic delivery offers the advantage of more efficient notification and no paper to file or lose. The secure website technology also keeps all patient information safe and confidential.

Through NaviNet, physicians can also provide feedback as to why a Care Consideration would not be appropriate for a patient. (For example, the patient may be allergic to a recommended drug.) The feedback is stored in the patient record to prevent sending a new Care Consideration for the same omission or co-mission and to enhance the accuracy of future Care Considerations.

Physicians will be able to receive Care Considerations for members of Aetna self-insured plans that include MedQuery services and for members of all of Aetna's fully insured Small Group, Middle Market and National Accounts group products.

Making it easier for patients to share information with physicians Later this summer, Aetna members with CareEngine® System-powered PHRs will be able to grant their treating physicians access to view their summary pages via NaviNet. The Aetna Personal Health Record summary is pre-populated via the CareEngine with health information from Aetna's claims system as well as non-claims personal health information entered by the member. This enables patients to engage in more meaningful interactions with their doctors and give doctors a more complete medical picture. Members must be established patients and can retract access to their summaries at any point. At this time, more than 4 million members currently have access to Aetna's PHR, and the number is increasing.

About Aetna
Aetna is one of the nation's leading diversified health care benefits companies, serving approximately 37.3 million people with information and resources to help them make better informed decisions about their health care. Aetna offers a broad range of traditional and consumer-directed health insurance products and related services, including medical, pharmacy, dental, behavioral health, group life and disability plans, and medical management capabilities and health care management services for Medicaid plans. Our customers include employer groups, individuals, college students, part-time and hourly workers, health plans, governmental units, government-sponsored plans, labor groups and expatriates. www.aetna.com