HARTFORD, Conn., and SAN FRANCISCO, Calif.,March 12, 2008 — Aetna (NYSE: AET) and Healthline Networks, a leading provider of intelligent health information, today introduced Aetna SmartSourceSM, the first-ever personalized search engine that mines information from Aetna's vast data resources to deliver meaningful, personalized health and health benefits information to Aetna members. Powered by Healthline Networks' Medically Guided SearchTM technology, Aetna SmartSource is an intelligent online search tool that connects members to health information and Aetna programs and resources specific to their needs. Once a user enters a medical search term, Aetna SmartSource searches various Aetna resources to show members:
Easy-to-understand health information;

Doctors in the local area who participate in their health plan;

Commonly used medications and treatment options;

Estimated health care costs; and

Aetna programs and discounts that can help members manage their health needs.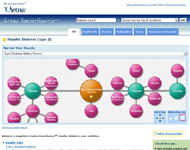 Aetna SmartSource
Aetna SmartSource is available online and can be accessed through Aetna Navigator®, Aetna's member self-service website, the CareEngine-powered Personal Health Record (PHR), and Simple Steps To A Healthier Life®, Aetna's online wellness program.
"Aetna is focused on becoming an industry leader in delivering personalized health information to members," said Meg McCabe, Aetna's vice president of medical and eHealth product. "Aetna SmartSource pulls information from a variety of Aetna web resources to intelligently organize search results based on a member's insurance plan, zip code, and overall health, thereby helping members to become more engaged in their health care decisions."
To ensure search results are relevant, Aetna partnered with Healthline to build a search engine that takes into account specific information about each user's gender, age, zip code, health care plan and employer, as well as information stored in their PHR. The result is a customized search tool that integrates a member's health profile with a robust suite of online tools and information, providing a single place to get personalized information on health, health care costs, and health care providers. Aetna SmartSource delivers information from the following resources:
Aetna InteliHealth, Aetna's online consumer health information website, offers easily accessible health information and content developed jointly with Harvard Medical School and Columbia School of Dental Medicine.

DocFind, Aetna's online provider directory, helps members find local physicians, hospitals, specialists, dentists, pharmacies, eye care centers and other health facilities who participate in their plan.

Estimate the Cost of Care provides average in- and out-of-network costs for prescription drugs, medical and dental procedures, office visits and medical tests based on a member's zip code.

Healthwise Knowledgebase supports members with information to help them choose health care treatment options that best suit their needs and preferences.
"Healthline is excited to be a part of this pioneering effort to integrate Aetna's vast health information resources and deliver them in an intelligent, personalized decision support platform for consumers," said West Shell III, chairman & CEO of Healthline Networks. "Aetna SmartSource is a ground-breaking application because it can use information stored in a personal health record and health plan to qualify the information the member is looking for, thereby ensuring more relevant and useful results for members."
Aetna will pilot Aetna SmartSource with several large, pre-selected customers throughout 2008. The application is presently available to Aetna's own 35,000 employees, a common testing ground for Aetna technology innovations. Visual design for Aetna SmartSource was designed by the firm Mad*Pow, a user-centered design studio based in Portsmouth, N.H.
A demo of the tool is available to reporters who request it.
About Aetna
Aetna is one of the nation's leading diversified health care benefits companies, serving approximately 36.7 million people with information and resources to help them make better informed decisions about their health care. Aetna offers a broad range of traditional and consumer-directed health insurance products and related services, including medical, pharmacy, dental, behavioral health, group life and disability plans, and medical management capabilities and health care management services for Medicaid plans. Our customers include employer groups, individuals, college students, part-time and hourly workers, health plans, governmental units, government-sponsored plans, labor groups and expatriates. www.aetna.com
About Healthline Networks
Healthline Networks is a leading provider of intelligent health information services, enabling more than 18 million consumers a month to make more confident, informed healthcare decisions. The company's proprietary consumer healthcare taxonomy, the largest of kind, powers a suite of intelligent health search, navigation and content services. Combining advanced search technology with deep medical expertise, Healthline partners with a network of trusted destination sites that include publishers, portals, search engines, employers and health plans. Headquartered in San Francisco, Healthline is backed by Aetna, GE/NBC, JHK Investments LLC, Kaiser Permanente, Mitsui & Co., Ltd., Reed Elsevier, US News & World Report, and VantagePoint Venture Partners. For more information visit www.healthline.com.