Aetna Joint Claim AdministrationSM

With Aetna Joint Claim Administration, you can work with a company with national reach, without giving up the personalized service your members expect.
A truly shared solution
Aetna Joint Claim Administration, you continue to perform key member services such as benefits determination. We lend our managed care expertise where it is most valuable — in areas such as provider services and care management.
How it works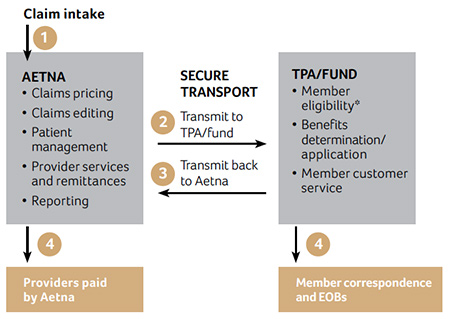 With Aetna Joint Claim Administration, you or your third party administrator (TPA) maintain control over:
Benefits determination
Member eligibility*
Member Explanation of Benefits (EOBs)
Member services
*Eligibility information will be provided to Aetna.
We handle:
Claims intake
Claims pricing
Claims editing
Network management and provider services
Provider payment and remittance
Precertification and care management
Reporting
It all comes together on the cutting-edge technology of the Aetna Strategic Desktop Customer Service Portal.



State-of-the-art care management programs
Precertification
Utilization management – concurrent review/discharge planning
Case management
Optional disease management and patient safety program through ActiveHealth® Management
The Aetna "extras"
Our program includes lots of "extras" for your members, including:
Online health assessments and interactive programs to promote healthy living, through our Simple Steps To A Healthier Life® resource
24-hour nurse help line
Discounts on gym memberships, vision care and products, natural products and services, and more
Find out if Aetna Joint Claim Administration is right for you
Aetna Joint Claim Administration combines your benefits administration with our care management expertise and national networks. It's available to self-funded plan sponsors with Preferred Provider Organization (PPO)-based medical plans.
To learn more, contact our sales team.

Karen Moran
Senior Vice President of Public & Labor Segment; Head of Shared Administration and TPA Relations
MoranKT@aetna.com
Carmella Faenza
Director of Shared Administration
FaenzaC@aetna.com
Sophia Berrios
Shared Administration Technical Director
BerriosS1@aetna.com