As a company, we have always recognized that we have an obligation to match the commitment of our employees. Since September 11, 2001, Aetna has enhanced its military leave policies on three occasions so that our employee veterans would not worry about how to provide for their families or meet their financial obligations. We are proud to have been recognized during 2007 as a "Five-Star Employer" by the group Employer Support for the Guard and Reserves.
We honor our employee veterans, who deserve to have their sacrifice and dedication acknowledged because they are making a difference to our country. Our thoughts and prayers are with those still serving overseas, and we are grateful for those who have returned to Aetna.
The men and women of Aetna salute our employee veterans and their extraordinary commitment to our country.
Manuel Heredia
U.S. Military Branch: Marines
Title at Aetna: Flexible Spending Account (FSA) sales support specialist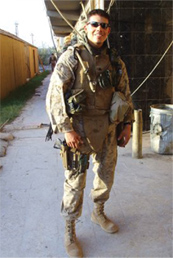 After his seven-month deployment in Iraq, based in Fallujah, Manuel Heredia returned to Aetna in January 2007 and resumed his role on the National Customer Operations Business Transaction Services team in Middletown, Conn.
"Helping to keep the peace and helping the people of Iraq gain trust in us was very rewarding work", said Heredia. "The experience certainly changed me — it gave me a new appreciation for all the little things in life."

Peter Van Loon
U.S. Military Branch: Navy
Title at Aetna: Finance director, Aetna Government Health Plans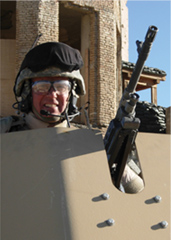 During his deployment, U.S. Navy Captain Peter Van Loon was based east of Kabul, Afghanistan. After his yearlong deployment, Van Loon returned to Aetna's corporate headquarters on Oct. 22, 2007, to assume the role of finance director for Aetna Government Health Plans.
"We had a chance to get involved in what really had an impact," said Van Loon, who also assisted with community projects such as drilling wells and rehabilitating schools. "We had military duties that were necessary, but the biggest necessity was helping the people of Afghanistan."
LeRoy Whitfield
U.S. Military Branch: Army National Guard
Title at Aetna: Care management associate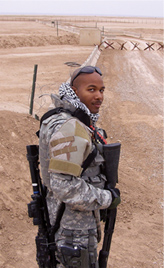 After the events of 9/11, LeRoy Whitfield wanted to do something to help support the country. So, in February 2002, he enlisted in the Army National Guard; and in June 2006, he was called to active duty in Iraq. In October 2007, after a 13-month deployment based in the small town of Ashraf, Whitfield returned to the Aetna office in Blue Bell, Pa., where he Works on the Patient Management team as a care management associate.